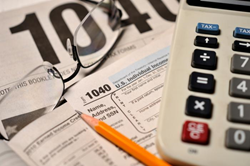 These new tax measures will affect a lot of expats living in France, but some may end up paying them unnecessarily.
London, UK (PRWEB UK) 28 March 2013
According to the Telegraph article published March 26th, legal changes in France designed to reduce tax evasion and increase revenue will mean expats face a higher tax bill.
As of this year new wealth tax rules will come into force. This applies to individuals with properties worth over €1 300 000 and to UK trusts. Both of these will now require a 1.5% tax.
Those with assets over €1 300 000 will pay;

Between €800,000 and €1,310,000: 0.5 per cent
Between €1,310,000 and €2,570,000: 0.7 per cent
Between €2,570,000 and €5,000,000: 1 per cent
Between €5,000,000 and €10,000,000: 1.25 per cent
More than €10,000,000: 1.5 per cent
However, expats are sometimes able to challenge or reduce these tax requirements.
The new statutory residence test from HMRC has changed to rules regarding what constitutes UK/Overseas residency. This means that if you are on the borderline you may not be liable under French tax law, or you may be able to adjust your circumstances slightly in order to become UK rather than French resident. This would only apply if you currently live in France on a limited or part-time basis.
Further investment vehicles available to expats also mean that they can place assets into trusts or similar investment wrappers that mean assets would fall under a tax authority outside their country of residence.
Pryce Warner International Group have produced a tax planning guide with advice on how to handle this.
Further, according to the Telegraph article published on the 26th of March, individuals affected by the change will also no longer qualify for previous exemptions
Non-residents previously exempt from paying Contribution Sociale Généralisée (CSG) will now have this specific tax of 15.5% added to any tax due by non-residents, whether income or capital gains tax.
Up to 2012, capital gains tax was not due after a non-resident had owned a French property for 15 years. Since the time limit has been extended to 30 years, non-residents will incur another 15 years of Capital Gains Tax before they can be exempted from it. The rate scale has been modified consequently. The government has increased rates based on the amount of capital gained.
As for inheritance tax, the threshold for what non-residents can be exempted from paying in inheritance tax or by way of a gift between parents and children has also been lowered from €156,000 to €100,000.
Trusts are liable to wealth tax, succession and gift duties, in case one settler or one beneficiary is resident in France. Compulsory declarative obligations also have to be fulfilled otherwise in order to penalties for non-compliance.
David Retikin, Director of Operations at Pryce Warner International Group, commented: "These new tax measures will affect a lot of expats living in France, but some may end up paying them unnecessarily. Often expats have means available to them that mean they can hold assets overseas or in some cases they may be liable under French tax regulations when they do not live in France for enough days in the year for this to be the case. Expats should speak to an expat tax advisor immediately in order to asses what they can do about these proposed changes."