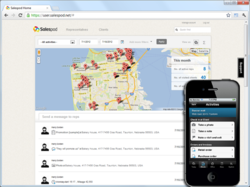 Salespod integration brings agile field team management to QuickBooks users
Boston, MA (PRWEB) March 28, 2013
Salespod, Inc., ( http://www.salespod.net ) the maker of the field sales and retail merchandising automation tool Salespod, has announced its integration with QuickBooks Online, Salespod is changing the way that companies manage their mobile workforce by leveraging mobile technologies to greatly streamline how information moves between the field and the back office. Known as a "task oriented swiss army knife for the mobile workforce", Salespod drives efficiency in the mobile workforce by providing high value functionality on smartphones and tablets. With the latest integration, Salespod has enabled managing and updating QuickBooks customer records on smartphones and tablets, as well as automating numerous tasks performed by sales and marketing professionals in the field, including;
● completing sales orders,
● managing customer information,
● filling-out custom forms and surveys,
● capturing photos,
● conducting price checks,
● and tracking the geo location of field teams and their activities.
Salespod is now available on Intuit App Center, enabling all QuickBooks Online users to synchronize their contacts while performing their everyday tasks in the field. All changes made to customer data via QuickBooks or Salespod are auto-synchronized allowing managers in the back-office to be up to the minute with all operations in the field. Salespod's ability to provide GEO tagging of events, real time tracking and live communication via internal SMS messaging empowers mobile teams to perform more efficiently.
"Salespod brings a complete new set of features to existing QuickBooks Online users and we are excited to meet their mobile business needs. This integration has opened a great new sales channel for us while enabling existing QuickBooks Online users to access Salespod more easily on Intuit App Center. We believe that in the days ahead this new integration will show as a true win-win situation." says co-founder of Salespod, Marko Linke.
About Salespod:
Salespod specializes in developing mobile software solutions for enhancing sales processes for the FMCG (fast moving consumer goods) industry, the pharmaceutical industry and the cosmetic industry. Since their founding in 2008, the vision has been to offer the most comprehensive and convenient mobile solutions on the market for sales and mobile management. Coined the "swiss army knife for your mobile workforce", the software is used by L'Oreal, Lavazza, Keune Haircosmetics, Julius Meinl, Jaegermeister and many others. Salespod's solution is poised to change the way field sales teams communicate, collaborate, and conduct business. This is a fundamental shift occurring in field sales and merchandising. Gone will be the days of clunky CRM systems. For more information or a free trial, go to http://www.salespod.net. For industry industry news and reports, visit the Salespod blog at http://www.salespod.net/blog/all-news/ or Twitter.com/salespod