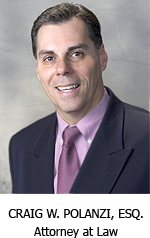 Our new site is designed entirely with our clients and potential clients in mind
Aiea, HI (PRWEB) March 28, 2013
The Aiea, HI law firm of Craig W. Polanzi, Attorney at Law recently launched a new website, providing a valuable online legal resource to current and potential clients.
The site offers helpful information to remove some of the fear and uncertainty from the legal process, including basic information on Hawaii divorce laws, in addition to information on federal and state bankruptcy laws.
"Our new site is designed entirely with our clients and potential clients in mind," said Hawaii divorce attorney Craig W. Polanzi. "We certainly hope they will use it as a resource to answer their initial questions, and then let us guide them through the legal process personally."
Website visitors learn how Mr. Polanzi and his support staff can assist them with their legal issue. The firm has developed a reputation for maintaining high ethical standards while aggressively representing clients throughout Hawaii in family law and bankruptcy matters.
About Craig W. Polanzi
Hawaii attorney Craig W. Polanzi assists clients in family law matters, including divorce, child custody and visitation, restraining orders, and property division. He also represents clients in bankruptcy proceedings, working to help individuals and families obtain financial relief through Chapter 7 and Chapter 13 bankruptcy.
Honolulu divorce lawyer Mr. Polanzi earned a Bachelor of Science in Law Enforcement Administration in 1979 from Western Illinois University, where he was a member of Phi Kappa Phi Honor Society. In 1985, he graduated from Southern Illinois University with a Master of Science in Administration of Justice. He was awarded Graduated Assistantship Research/Training and continued as a member of Phi Kappa Phi Honor Society. Mr. Polanzi received his Juris Doctor from the Howard University School of Law in 1987, ranking in the top 15-percent of his class.
About the Firm
The Law Office of Craig W. Polanzi in Honolulu, Hawaii represents clients in divorce and other family law matters. They also help individuals and families find relief from debt by using protections afforded under bankruptcy law.
The attorneys at the Law Office of Craig W. Polanzi focus on the following areas of practice:

When you face the life-changing decisions that come with a divorce, it is critical to have the support of an attorney who takes the time to understand your unique needs and goals. As a solo practitioner, Honolulu divorce lawyer Craig W. Polanzi provides each of his clients with individualized attention and compassionate support.
For more information about the firm, please visit the firm's website or call 808.487.8870.
Craig W. Polanzi, Attorney at Law
98-200 Kamehameha Highway, Suite 405
Aiea, Hawaii 96701
Phone: 808.487.8870