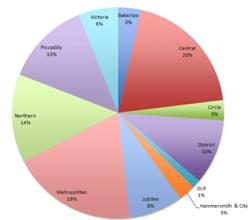 total value of March 2013 claims was £1000.65 with passenger delayed for a total of 111 hours and 40 minutes
London (PRWEB UK) 29 March 2013
Just over half of all claims ClaimMyRefund.co.uk submitted for its members originated on either the Central, Metropolitan or Northern lines. The single biggest claim generating tube line, with 19% of delayed journeys was the Metropolitan line; it also suffered the longest delay of 58 minutes over the standard journey time.
For the 563 ClaimMyRefund members, the totally automated service identified and submitted 303 claims: total value of March 2013 claims was £1000.65 with passengers delayed for a total of 111 hours and 40 minutes, an average of 22 minutes and £3.30 for each delayed journey.
The ClaimMyRefund service is completely automated; all that's required is an Oyster card and an Oyster online account. When signing up to the claim service, customers are requested to submit their Oyster online username and password. This enables the bespoke system software to log onto the Oyster online account and check the journey history for delayed journeys, once a delayed journey has been identified, a claim is automatically submitted to Transport for London (TfL) on behalf of the customer.
An Oyster online account is very easy to set up, all that is required is an Oyster card, an email and a postal address. The automated refund claim service from ClaimMyRefund costs £2 for a year and takes seconds to join. Any number of Oyster cards can be monitored on one Oyster online account and it starts working straight away, checking the last two weeks for delayed journeys.
The TfL Passenger charter states that any London Underground or Docklands Light Railway (DLR) journey that is delayed for more than 15 minutes for reasons inside TfL control qualify for a refund. Typically reasons for delays inside TfL control are signal failure or broken down trains. However, delays caused by extreme weather conditions or people taken ill, do not qualify for a refund.
All figures quoted are from data extracted from the automated refund system, copy attached.