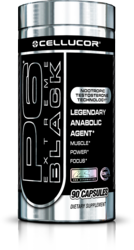 We knew this product had to be something really special to live up to the P6 Black™ name, and after exhaustive amounts of research and beta tests, we are ready.
Bryan, TX (PRWEB) March 27, 2013
Just 3 weeks after the exciting official announcement of M5 Reloaded™, and after months of social media suspense, Cellucor yesterday finally announced that the 'mysterious product re-launch' the brand has been teasing is in fact the infamous P6 Black™.
Although the original P6 Black™ was retired approximately 5 years ago, the buzz surrounding the product has never died down, a rarity in an industry where the latest and greatest dominate discussions and shaker cups. According to an official news update on Cellucor's website, the legendary anabolic has been reimagined and reformulated for a special, limited edition release, with 'ground breaking pro-testosterone compounds' and innovative nootropics to deliver the first and only testosterone booster of its kind.
"Reimagining P6 Black™ has been a closely guarded project for a long time" said Cellucor VP, Daniel Lourenco. "We knew this product had to be something really special to live up to the P6 Black™ name, and after exhaustive amounts of research and beta tests, we are ready…it's time for the world to meet the first testosterone product in years that you can truly feel, testosterone with a mental edge."
P6 Black™ features Nootropic Testosterone Technology, a powerful combination of innovative testosterone boosting ingredients and cutting edge nootropic agents such as Alpha-GPC, to deliver a hardcore testosterone supplement that helps fully enable the body's anabolic potential, connecting mind and muscle unlike any product currently available on the market.
P6 Black™ is also introducing a novel, superior form of D-Aspartic Acid, D-Aspartic Acid Magnesium Chelate.
"DAA [D-Aspartic Acid] is an ingredient that's been really hot in the testosterone market, but this is far from a typical, standard DAA product. The form of DAA we're using is unlike anything you see currently on the shelf, and we back that ingredient up with unmatched testosterone and holistic system support."
This new, innovative, chelated form of DAA features a fusion of D-Aspartic Acid with Magnesium, a combination mimicked in Cellucor's M5 Reloaded™ with the brand's popular Creatine Magnesium Chelate ingredient.
"When magnesium is chelated with an amino acid such as DAA, it doesn't readily react with the stomach acids and instead gets a "free-pass" to the rest of the body," explained Lourenco.
Cellucor is giving its fans the chance to obtain free pre-release bottles of P6 Black™ exclusively on their official Facebook and Twitter. Beginning later this week, customers will have the chance to save up to 50% on the purchase of the product when it launches this April by visiting P6Black.com
Cellucor is a safe and effective supplement brand known for its premier weight loss and sports nutrition product offerings. Cellucor products can be found at GNC, Bodybuilding.com, Vitamin Shoppe and select retailers internationally. For more information on the launch of P6 Black™ and other Cellucor products, visit Cellucor.com or connect with the company on Facebook or Twitter.