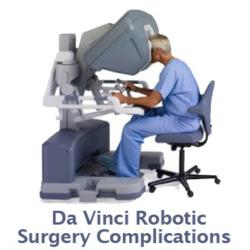 Free Da Vinci robotic surgery lawsuit case evaluations are available through yourlegalhelp.com or by calling 1-800-399-0795.
Columbus, OH (PRWEB) March 28, 2013
Wright & Schulte has learned that a Da Vinci robotic surgery lawsuit filed in a Louisiana federal court (No. 11-2704) has recently been settled. This news presents a significant milestone for other Da Vinci robotic surgery complications lawsuits filed, as it paves the way for future Da Vinci robotic surgery complications settlements to be reached for those who were seriously injured after undergoing Da Vinci robotic surgery. The recently settled Louisiana case had been filed in the U.S. District Court for the Eastern District of Louisiana and named Intuitive Surgical, the manufacturer of Da Vinci surgery robots, and the Tulane University Hospital and Clinic (TUHC) as the defendants.
According to court documents, the plaintiff had chosen Da Vinci robot surgery for her thyroid removal surgery; however, during the procedure, the Da Vinci robot malfunctioned, and hospital staff members were unable to properly repair it. At that time, the operation was completed using traditional surgery, and remnants of the thyroid tissues were left in the plaintiff, meaning that she would likely require further surgeries to remove the remaining thyroid tissues. Court documents go on to allege that, while Intuitive Surgical failed to properly train TUHC's operating physicians on how to resolve malfunctions with the device that occurred during the plaintiff's surgery, TUHC failed to maintain the Da Vinci robot and failed to have an agreement with Intuitive Surgical requiring a specialized Da Vinci robot specialist to be available in person should such problems arise mid surgery.
[law.justia.com/cases/federal/district-courts/louisiana/laedce/2:2011cv02704/148250/20]
Wright & Schulte, LLC is experienced in defending the rights of those who have sustained serious injuries after using defective products and dangerous drugs. Our Da Vinci robotic surgery lawsuit attorneys are experienced at successfully fighting for victims of medical complications and injuries. We encourage those who believe they have sustained Da Vinci robotic surgery complications to speak with our knowledgeable lawyers by visiting yourlegalhelp.com or by calling 1-800-399-0795.
To date, the alleged problems with Da Vinci surgical robots have led to at least 4,600 injuries and at least 80 deaths, according to the Food and Drug Administration (FDA). [http://www.citronresearch.com/wp-content/uploads/2013/01/Intuitive-Surgical-part-two-final.pdf Some of the reported robotic surgery complications and injuries have included perforation to internal organs, internal bleeding and sepsis.
As news of this Da Vinci surgery complication settlement spreads, the debate regarding Da Vinci robotic surgery problems is likely to become increasingly heated. In fact, while one report published in the American Journal of Obstetrics has stated that there is currently not sufficient data to verify whether Da Vinci robot surgeries are superior to traditional methods [http://www.ajog.org/article/S0002-9378(12)00664-3/fulltext , another published in the Surgical Endoscopy journal has pointed out that, in some cases, patients have a greater risk of experiencing post-operative complications that require extensive follow-up treatments with Da Vinci robot surgery (than with traditional surgical methods). [http://www.seattletimes.com/html/localnews/2018631542_robot08m.html
Compounding these reports was a recent announcement made by the American Congress of Obstetricians and Gynecologists (ACOG), in which it warned its members that Da Vinci robot surgery should not be the first option in hysterectomy surgeries due to the complications associated with using Da Vinci surgical robots and the fact that many physicians have not been properly trained by Intuitive Surgical to use these devices. [http://www.acog.org/About_ACOG/News_Room/News_Releases/2013/Statement_on_Robotic_Surgery
About Wright & Schulte LLC
Wright & Schulte LLC, an experienced personal injury firm, is dedicated to the belief that America's legal system should work for the people. Every day, the attorneys of Wright & Schulte LLC stand up for people who have been injured or wronged and fight tirelessly to ensure that their rights ae protected. If you're looking for a law firm that will guarantee the aggressive and personal representation you deserve, please do not hesitate to contact Wright & Schulte LLC today. Free Da Vinci robotic surgery lawsuit case evaluations are available through yourlegalhelp.com or by calling 1-800-399-0795.
Contact:
Wright & Schulte LLC
812 East National Road
Vandalia, Ohio 45377
1-800-399-0795
http://www.yourlegalhelp.com