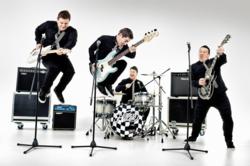 Alive Network has been involved in artist development for a number of years through working hand-in-hand with our exclusive artists. We want to ensure that they are providing the best possible service to our clients.
Stoke-On-Trent, Staffordshire (PRWEB UK) 29 March 2013
Alive Network's 360 Degree artist representation service has been created to provide key artists with everything they need to run their bands as a successful business.
The agency invests in every essential for success in the busy world of private functions and corporate entertainment, from recording top quality demos and videos, to workshops to improve live performance techniques and marketing advice.
Artist Development manager Rich Hearn sees the new 360 Degree representation package as a natural extension of the close relationship the agency maintains with many artists across the UK.
"Alive Network has been involved in artist development for a number of years through working hand-in-hand with our exclusive artists, be they function bands, solo singers or instrumentalists. We want to ensure that they are providing the best possible service to our clients, and in turn that we are promoting them in the best possible way so potential customers can discover these artists' talents more easily.
"Equally, as a top UK professional live entertainment agency, we want to make sure that our resources for development are being put into the artists who we are most likely to get work for. By offering artists and bands the complete package, we help them develop their careers and artistry, whilst benefiting from their talents and commitment to Alive Network."
Two examples of artists currently enjoying exclusive 360 Degree representation from Alive Network are top UK function bands for hire Hipster and Happy Hour.
Since joining Alive Network in 2004, Hipster have earned over £1million in bookings from the agency both in the UK and worldwide. Hipster can be found entertaining at celebrity weddings and private parties, major events as diverse as the Batman Live World Premier after party, a sell-out show at Wolverhampton Racecourse, and the National Business Awards, and for clients including HRH Prince Harry, who said they were "Absolutely awesome!"
Thanks to their complete representation package from Alive Network, the band have recorded demo tracks at the Alive HQ private recording studios, plus promo videos at London's Assault and Battery recording studios. Their website receives hundreds of hits a month from fans across the UK, and their gigs are covered by Alive Network's own event reporters, to give prospective customers the complete picture of what hiring the band will be like.
Happy Hour, an energetic young function and party band from Essex, have really noticed the difference since joining Alive Network as an exclusive artists. In 2008, they played just a few gigs and earned an OK but not brilliant £17.5k for the year. Fast forward to 2013, and thanks to the 360 Degree representation, including a studio photography session that really captured their boundless sense of fun, the boys have already earned over £56.5k in the first three months of this year.
Happy Hour founder Richie Cooper is in no doubt about the value of the package Alive Network offer.
"We love what we do; it's our full time job - and we take great pride in putting this across in each performance. However, before we joined Alive Network, our publicity materials and demo tracks quality just didn't match the quality of performance we were aiming at.
"Thanks to Alive Network, we now have professional demo tracks, top notch videos, a website that really sells us well, and most importantly, an agency that is as passionate about our shows as we are. 360 Degree representation also gives us the 'breathing space' to concentrate on rehearsing, improving our skills and growing our repertoire list, knowing that Alive Network are working hard to get us the bookings!"
Alive Network are keen that this new 360 Degree Artists Representation package helps not just established bands, but the new generation of function bands, artists and musicians starting out in their careers.
"We're very picky about who we represent", says Rich Hearn. "We invest a lot in their online and onstage image, their presentation and their marketing. In turn we expect our 360 Degree artists to work hard to develop their skills, and to perform to the highest standards at every gig, whether a small private party or a big corporate event.
"In the end, both artist and agency want the same thing: for the organiser and the audience to love the show, have a great time, and to go home happy!"
For more details, go to http://www.alivenetwork.com