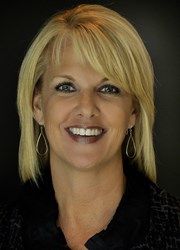 I am extremely pleased and honored and wish to thank Casino Enterprise Management, and, in particular, the eight-member judging committee for this award.
Atlanta, GA (PRWEB) March 27, 2013
The Rainmaker Group announced today that Tammy Farley, president of The Rainmaker Group, is among a distinguished group of five women who have won Casino Enterprise Management magazine's prestigious Great Women of Gaming (GWOG) Proven Leader Award for 2012. This is the eighth year for the award.
"I am extremely pleased and honored and wish to thank Casino Enterprise Management, and, in particular, the eight-member judging committee for this award," said Tammy Farley, who along with her business partner, Bruce Barfield, co-founded Rainmaker in 1998. "I also want to thank Bruce and our customers who wrote letters of support on my behalf. Their confidence and kind words are especially humbling."
To qualify as a Proven Leader, candidates must have worked in the gaming industry for a minimum of 10 years and have been in their current position for at least one year. They must also work for a gaming industry company, hold a position of director or higher, and have demonstrated exceptional achievement in at least three of the following areas:
1) Ability to go above and beyond job responsibilities
2) Commitment to company and co-workers
3) Contributions to the industry as a whole
4) Commitment to mentoring
5) Strong overall life balance
Numerous customer recommendations validated Ms. Farley's achievements and strengths as a highly respected resource for innovative revenue management practices and project consulting, particularly in the casino hotel and resort markets. She has devoted many years to increasing revenue and delivering greater profitability for clients in the gaming/hospitality and multifamily housing industries.
Tammy's exceptional customer focus and vision remains a driving force behind Rainmaker's remarkably impressive entrepreneurial growth story. In 2012, for the second consecutive year, Rainmaker earned a spot on the Inc. 500|5000 list of the nation's fastest growing private companies, jumping 31 percent from its 2011 ranking. In addition to being a proven entrepreneurial leader, Ms. Farley also successfully enjoys family time with her husband and teenage daughter. She is on the Board of Directors for HSMAI, a participant in the Gaming & Leisure Roundtable, a frequent speaker at industry and academic conferences, a current Board member of the Make-A-Wish® Foundation of Georgia, and is actively involved in several other charitable organizations.
Casino Enterprise Management will feature in-depth profiles of this year's award winners in an article to appear in its May 2013 issue. Other 2012 GWOG Proven Leader winners were from Aristocrat, Multimedia Games, Bally Technologies and Rush Street Gaming.
About Casino Enterprise Entertainment
Casino Enterprise Management magazine delivers the most comprehensive need-to-know information in the world of casino management. All operational facets of the casino business are thoroughly covered in each issue. Readers enjoy first-hand reporting from the brightest thought leaders in the worldwide casino gaming industry. CEM offers several prestigious awards for the gaming industry including Great Women of Gaming, Slot Floor Technology Awards, and the Hospitality Operations Technology Awards. The website, http://www.aceme.org, is the gaming industry's most complete digital doorway into the world of casino management and includes audio articles, videos, web exclusives, case studies, white papers, an up-to-the-minute newswire, and much more. The newly launched http://www.CEMAudioEdge.com includes live Internet talk radio shows and archived podcasts from industry leaders.
About Rainmaker
The Rainmaker Group is the market leader in profit optimization solutions for the Gaming & Hospitality industry. Rainmaker is a Microsoft Gold Certified Partner and leverages cutting-edge research in order to bring clients the most sophisticated solutions to their revenue management challenges. Whether GuestREV®, TribalREV®, or GroupREV®, all Rainmaker solutions provide clients a strategic advantage in achieving the highest profitability from their assets, and all interface with the industry's leading property management systems. Rainmaker solutions support the operations of leading tribal clients, including, in addition to Viejas Casino, Mohegan Sun, Foxwoods Resort Casino, Seneca Gaming Corporation, Agua Caliente, and Grand Casino, and are used to manage over 100,000 rooms for other companies such as Atlantis The Palm Dubai, Caesars Entertainment, MGM Resorts International, Omni Hotels & Resorts, Revel, Wynn Las Vegas, and many others. Headquartered in northern Atlanta, GA, Rainmaker is an innovator and thought leader in the highly specialized revenue optimization field. For two years running, Inc. magazine has ranked Rainmaker among America's top 5,000 fastest growing, privately held companies. For more information, visit http://www.LetItRain.com.