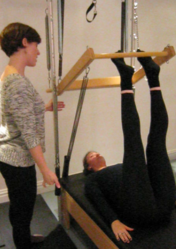 Because the Pilates Tower springs rise up from below the contraption, your legs can be in a vertical alignment, allowing for safer - and in some ways more effective - avenues to achieve ankle mobility, strengthen knees, and develop hip joint stability.
New York, NY (PRWEB) March 29, 2013
Mind Your Body Pilates UES new Pilates Tower Classes literally allow clients to "get a leg up" on the competition in the vast and sometimes confusing assortment of NYC group exercise classes available. People who balk against the expense of private sessions do have an affordable alternative within the vast difference between what one gets in a one-on-one workout compared to what one gets in a group class of 20 - 50 people. These new Pilates Tower classes at Mind Your Body add to the already extensive and varied selection of small group classes offered in the two Upper East Side studios, each with a maximum of five participants, pretty much guaranteeing some of the benefits of personal training without the cost. Plus, with owner Gail Giovanniello's ongoing commitment to Pilates continuing education, both for herself personally and in the frequent In-House Trainings she offers free of charge to her staff and open to the public at a nominal fee, clients are assured that in any class - private or group - that they'll get a seasoned teacher rather than a fresh-off-the-rack instructor. Just last Friday, March 22nd, Gail led an intensive Pilates Cadillac Teacher Training, the principles and movement within which are applicable to the Pilates Tower, which is an appended version of the full Pilates Cadillac apparatus.
Watch Gail Giovanniello UES Cadillac Teacher Training 2013 to see some of the principles of movement, stability and core strengthening which are taught specifically using the same spring-resistance and pelvic stabilization set-ups that are taught in Pilates Tower classes.
The always-guaranteed small class size assures a client with some immediate individual attention to help focus on personal goals or help to heal slight injuries or pains. In larger NYC exercise classes, you'd have to attend regularly for weeks in order for an instructor to even get to know your name, much less to get to know some of the individual toning concerns you have or the chronic pains you need addressed or a lingering injury you might like advice for. In any of the over forty weekly small group classes in Pilates Tower, Basic, Intermediate and Advanced Pilates Reformer, Pilates Chair, Pilates Circle, Pilates Mat, Pre-Natal Pilates, Cardio Pilates, Pilates Circuit Training or TRX® Suspension™, there can only ever be a maximum of five students. So the instructor can know the name of each client in any and every class, and there is time and ease for each client to voice particular concerns before the class starts, making these group classes much more safe and effective, beyond the fact that the teacher can keep a more specific and subtle eye out for alignment issues, correct form, stability and breath.
The Pilates Tower Leg Series Exercises are performed with the apparatus sprung from below rather than with the springs uncoiling horizontally from underneath the apparatus as they are with the reformer. Also, because of this, there is no carriage that glides back and forth as with the reformer. This aspect of the apparatus - as with the Pilates Cadillac in which the table remains motionless - actually assists in students understanding the Cadillac (and thus Tower) as precedent to the Reformer because it establishes stability in both the mind and body of the participant who must lift their own body weight, bend and stretch while holding their own...and - as Pilates Master Educator Gail Giovanniello muses - "Pull themselves up by the seat of their pants," - literally - since stability involves the use of the pelvic floor.
In this video Pilates Upper East Side NYC Cadillac Exercises for Tower Classes see some of the Pilates Tower Legs Series exercises in motion .
The Leg Series on the Pilates Tower is also conducive to learning and ingraining proper alignment and function of ankles and knees and promotes pelvic stability which is important for hip joint health. Knees that tend towards hyper-mobility can't lazily (and dangerously) fall back with the weight of gravity pulling down on them. On the Pilates Tower, the bar which is attached to the spring is above the person lying prone on the table below. This reverses the usual effect of gravity of the knees, both if the person were to be standing upright and trying to strengthen the knees with typical knee extension exercises such as gym squats or even more gentle knee moves such as yoga chair pose - or if the person were lying down on the reformer and performing the typical footwork series. This is another aspect of how the Pilates Tower actually prepares one to take a dive over to the reformer, and why the addition of these new Pilates Tower small group classes is an excellent way for clients to understand their bodies in the gradual and progressive way that Joseph Pilates designed the exercises and invented the apparatuses.... and with how Gail Giovanniello and her Mind Your Body Pilates staff of teachers continues on this legacy.
For more detailed information on upcoming teacher trainings and in-house continuing education or for more information on customized-to-the-client private Pilates sessions with Gail Giovanniello or her fine staff of instructors, please call Mind Your Body at 212-426-7960.
Also see the complete Mind Your Body Fitness Group Pilates Class Schedule:
Over 40 Classes to Choose From on Reformer, Tower, Chair and Mat
Each Class with Five or Fewer Students and Available Seven Days a Week
Complimentary private press previews with Gail Giovanniello can be scheduled for alternate times.
Press contact: Tim Driscoll 212-647-8878