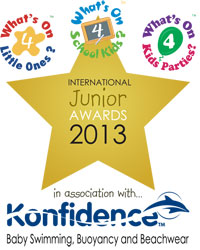 I'm thrilled parents have nominated us for these prestigious awards
Solihull (PRWEB UK) 28 March 2013
Popular children's music classes, Rhythm Time, is celebrating their success after making it through to the final voting stage of a top national award that recognises best activities for children.
Kathy Doolan, who founded Rhythm Time in Solihull in 1995, is delighted that their children's music classes for babies, toddlers and pre-schoolers have been nominated in four categories in the Whats On 4 Little Ones Junior Awards 2013. These awards reward, celebrate and recognise those companies that provide the very best activities for young children.
"I'm thrilled and flattered that the parents and carers who come to our children's music classes with their little ones have nominated us for these prestigious awards," she says. "It's so rewarding to see how the babies and young children in our classes genuinely benefit from music and how it can enhance their development. We really appreciate the fact that the parents value what we do. It's also down to our fabulous teaching staff who help make our classes so enjoyable for everyone involved," she adds.
Rhythm Time has been nominated in four categories, including Best National Baby & Toddler Development Activity, Best National Pre-schooler Development Activity, and Most Outstanding Activity Leader for the Under 5s (Northern Ireland/Scotland and West & Wales).
On-line voting is now open for parents to vote for Rhythm Time's children's music classes and will be open until 28th May.
To vote for Rhythm Time just visit http://www.whatson4littleones.co.uk Free trial sessions are also available for those who haven't been before, and can be booked by visiting rhythmtime.net/pr Franchise opportunities are also available by calling 0121 711 4224.
Rhythm Time
76 Beechwood Park Road
Solihull
B91 1ES
Telephone 0121 711 4224
Email: marketing(at)rtfg(dot)co.uk
Information for Editors
Rhythm Time was started in Solihull in 1995 by Kathy Doolan who is a firm believer in the power and importance of music for babies, toddlers and pre-school children.
Kathy created three age-appropriate music programmes for babies (birth to 14 months), toddlers (15 months to three years) and pre-schoolers (three to school age). Children enjoy an early introduction to music and all classes are in line with the Early Learning Goals and Key Stage 1.
There are now over 36 franchisees throughout the UK providing Rhythm Time music classes to babies and children up to 5 years old.
These are the 7th National Annual Awards run by whatson4littleones and were created to reward and recognise those companies, organisations and individuals who provide the very best activities for children across the UK.
Last year, Rhythm Time also won a number of awards across the UK for 'favourite pre-school classes' from the top parenting site, Netmums.