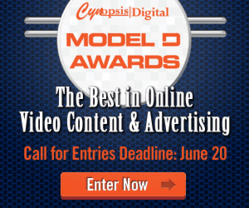 New York, NY (PRWEB) March 28, 2013
Cynopsis Digital announced today the launch of the Digital Model D Awards competition to celebrate the best in online video content & advertising. Entries are being accepted from now through June 20, and the winners will be announced at a special awards event in New York in November 2013.
"We felt that it was time to honor the innovators and leaders in this burgeoning field of online video with the Cynopsis Model D Awards," says Roberta Capoloe, editorial director of Cynopsis Media. "The world is watching this new media space, as readers of Cynopsis well know, and we are looking forward to benchmarking great online content.
Entry categories in the Model D Awards range from Best Integration in a Web Series to top TV Everywhere App, from Best Social Media Campaign for television to Best YouTube Original Channel. To see the complete list of categories, go to http://www.cynopsis.com/events/digital-awards. Entry deadline is June 20, 2013.
Cynopsis: Digital is the daily must-read e-newsletter for professionals in TV and online video content creation, distribution, media buying and planning, ad sales, technology, research and marketing. The awards are open to digital media publishers, TV and online video networks, MSOs, studios, production companies, producers, brands, ad agencies, interactive media agencies and others. (Enter Online Now)
For entry questions, contact Pete Romas at pete(at)cynopsis(dot)com. For advertising or sponsorship information, contact VP of Sales & Marketing, Mike Farina at mike(at)cynopsis(dot)com.
ABOUT CYNOPSIS MEDIA
Cynopsis Media is a division of Access Intelligence LLC. The Cynopsis Media family of products includes Cynopsis, Cynopsis: Digital, Cynopsis: Kids, and Cynopsis: Sports daily e-publications, special eReports, Event/Summits, the industry's most robust Classifieds and more. Visit Cynopsis.com.
###