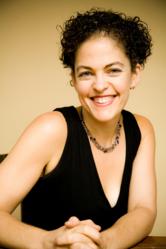 "I never imagined that I would be reading there one day." - Bucknell University Professor and poet Shara McCallum on reading at the Library of Congress
LEWISBURG, Pa. (PRWEB) March 28, 2013
Bucknell University poet Shara McCallum, professor of English and director of the Stadler Center for Poetry, has been chosen for one of two 2013 Witter Bynner Fellowships.
McCallum and poet Sharon Dolin were chosen to receive the fellowship by U.S. Poet Laureate Natasha Trethewey, who was the 2010-11 poet-in-residence at Bucknell. "I am grateful for the affirmation of a poet whose work I deeply admire," said McCallum.
The fellowship awards $10,000 to each recipient, provided by the Witter Bynner Foundation for Poetry. But for McCallum, the biggest thrill will be doing a reading of her work at the Library of Congress in Washington, D.C., on April 2 to help kick off National Poetry Month, in addition to another in Pennsylvania this fall.
"I remember going to readings at the Library of Congress while I was in graduate school," said McCallum. "I never imagined that I would be reading there one day."
Following the reading, McCallum will also do a recording for the Library archives. "That's another part of this that's a bit surreal," she said.
In addition to writing four books of poetry, This Strange Land, Song of Thieves, The Water Between Us and The Face of Water: New & Selected Poems, McCallum's poems and personal essays have appeared in numerous literary journals and have been reprinted in anthologies of American, African American, Caribbean and World poetry. A 2011 NEA Poetry Fellowship recipient, McCallum has brought poetry to the forefront of campus life at Bucknell, both through her role as Stadler Center director and creator of the Poetry Path, which launched last year. Her innovative approach to teaching poetry combines words with the power of movement and breath, as in the yoga breathing practices she uses to help students better understand the creative process. McCallum, along with a certified yoga teacher, will lead a Yoga and Poetry Path tour through Bucknell's campus and Lewisburg on April 20.
The Witter Bynner Fellowship recognizes a body of work by a writer, and is high praise for the poets who have received it throughout its 16-year history. But awards are not what keeps McCallum writing poems.
"I don't know a better way to make sense of my relationship to the world," she explained. "Poetry encompasses song and metaphor and story. Through compressed language, poems allow us to be more fully present in our lives."
About Bucknell
Founded in 1846 and located along the banks of the Susquehanna River in historic Lewisburg, Pa., Bucknell University is the largest and one of the most highly ranked liberal arts universities in the country. Students can choose from more than 110 majors and minors in the arts, engineering, humanities, management, and social and natural sciences, as well as extensive global study, service-learning and research opportunities. Bucknell's 3,500 undergraduate and 100 graduate students from across the world enjoy a low 10-to-1 student-faculty ratio and 150 students clubs and organizations plus 27 Division 1 athletic teams.