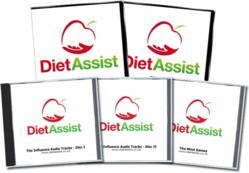 If you believed that by eating an Easter egg you would put on a stone in weight, would you do it?
London, UK (PRWEB UK) 27 March 2013
DietAssist have today released 5 tips to help people get through the Easter holidays without ruining their waistlines.
Paul Howard, co-creator of DietAssist, explains, "Holidays are often the breaking point for people dieting as they tend to focus on short term pleasures rather than long term goals. And, let's face it, Easter is a time for chocolate. When we released our advice on 'How to lose weight in a month' it was interesting to discover how many people wanted to do take our 30 day challenge the month before Easter, intending to stop for the Easter holidays."
DietAssist say that we are programmed from childhood to think of chocolate as a treat. Parents use sweets as a reward and have done for decades, so everyone alive today will have been subject to this type of programming to some degree or other.
But is chocolate really a treat?
Many experts believe that refined sugar is a poison and that we would be a lot better off avoiding it. So although chocolate lights up the pleasure centres in the brain, it also does a great deal of harm behind the scenes.
The main thrust of DietAssist Easter survival plan is to light up the pleasure centres without using sugar. Of course, eating an Easter egg or two isn't a death sentence, but the short-term pleasure seeking behaviour can ruin weeks of moving towards a weight loss goal.
Paul Howard, continues, "Our 5 tips to a slimmer Easter explains how to enjoy the holidays but still stay motivated and focused on the long-term goal of your weight loss. If having that Easter egg demotivates or even diverts you from your goal, it goes from being a guilty pleasure to a self-destructive act because there's a likelihood that you will put back on all you have lost and maybe more. If you believed that by eating an Easter egg you would put on a stone in weight, would you do it?"
The DietAssist programme is the result of over 20 years experience of helping people to lose weight effectively, and uses the latest psychological techniques to avoid the self sabotage and demotivation that dieters commonly experience.
The DietAssist programme helps dieters strengthen their motivation and resolve, and creates the optimum psychological state for success. It is designed to work alongside any weight loss programme or sensible eating plan.
People wishing to learn more about how DietAssist can make losing weight easier can join the 30 Day Weight Loss Challenge, in which members of the public can receive 30 days access to the DietAssist weight loss programme for just £1 so they can see how well it works in practice.