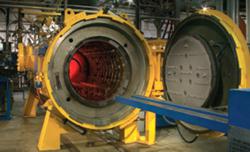 This gift, valued at $250,000, is being provided to educate future technical personnel.
(PRWEB) March 27, 2013
In commemoration of ASM International's 100th anniversary, Solar Atmospheres Inc. is donating a vacuum furnace to ASM for use in its Teaching Lab at their headquarters in Materials Park, Ohio. William R. Jones, CEO of Solar Atmospheres, Inc. states, "This gift, valued at $250,000, is being provided to educate future technical personnel on the latest design and capabilities of the modern vacuum furnace." This new furnace is expected to ship in June 2013 and be operational in July.
The furnace is being built by Solar Manufacturing, a Solar Atmospheres company. Currently under construction is a Model HFL-2018-IQ horizontal, internal quenching furnace with a hot zone that measures 12"wide x 12" high x 18" deep and is capable of operation to 2400oF. The hearth will accept a load of 250 pounds. The hot zone insulation package will consist of a heavy graphite foil hot face backed by 4 layers of ½" inch graphite felt, all supported in a stainless steel ring. The elements will be curved solid machined graphite.
The vacuum system will incorporate an Alcatel mechanical pump, a Varian 6" VHS-6 diffusion pump and an Alcatel holding pump to allow the furnace to operate in the 10-6 Torr range. Gas quenching will be via an internal 5 HP blower/heat exchanger combination that recirculates the cooling gas through fixed gas nozzles located throughout the hot zone. Instrumentation will include a Honeywell DCP100 programmer/controller, a Eurotherm 6100 temperature/vacuum recorder, a Honeywell UDC2500 overtemperature controller and an Allen Bradley Micrologix 1500 programmable logic controller.
Featuring state-of-the-art vacuum furnace technology, this furnace will allow students to perform a wide variety of tests and experiments relating to vacuum heat treating, brazing and sintering processes. It will also give them a hands-on understanding of the value and advantages of using vacuum over other heat treating equipment.
To learn more about the Model HFL-2018-IQ furnace and other of vacuum heat treating, brazing, sintering, carburizing, and nitriding furnaces from Solar Manufacturing, please visit http://www.solarmfg.com.
ABOUT SOLAR ATMOSPHERES INC.
The Solar Atmospheres group of companies consists of five different companies that are privately owned: Solar Atmospheres, Solar Atmospheres of Western PA, Solar Atmospheres of California, Solar Manufacturing and Magnetic Specialties. From vacuum heat treating to building vacuum furnaces and electric components, their joint mission is to add significant value to their customer's operations.
###