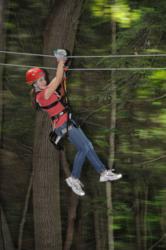 Guests can take advantage of the best of the air and the water only a short drive from home
Charlemont, MA (PRWEB) March 27, 2013
When rafting outfitter Zoar Outdoor opened the first zip line canopy tour in Massachusetts in 2009, the activity was so new to the US that Zoar Outdoor President, Bruce Lessels, wondered whether zipping would take the place of rafting. "We were a little nervous that we might see a decrease in rafting interest with the introduction of zipping, but we've had the opposite experience - as zipping has grown, so has rafting." In fact, the adventure outfitter has seen the popularity of getaways combining zipping and rafting increase each year since then. "Guests can take advantage of the best of the air and the water only a short drive from home," says Lessels.
Zip line canopy tours are three hour long trips through the tops of the trees in the hills of the Berkshires. The course features 11 zip lines, 2 sky bridges, and 3 rappels. Groups zip from tree to tree with a couple of breaks on the ground where guests can refuel and get their land legs under them before continuing down the course.
The rafting half of the package gives guests a choice of the amount of excitement they want. For first-time rafters, or groups with younger children, the Zoar Gap offers a perfect combination of playful water, swimming spots, water games and one exciting rapid mid-trip. For a slightly more exciting day in early spring the Millers River offers beautiful views, sections of playful, splashy waves, and a couple of big, class III+ rapids. The most exciting option available to rafting guests is the Dryway. This high-adventure class III and IV run provides continuous rapids with big hits and big splashes all summer long.
The zip and raft package is a great way to save money on an outdoor adventure getaway and, according to Kevin McMillan, Director of Guided Programs, it just "makes sense time-wise" for people driving up for their vacation. Guests have the choice to zip or raft first, and McMillan says the choice seems to depend on whether they are morning people or not, since rafting starts early in the day, but zipping can be scheduled for the afternoon. "Morning people tend to go rafting first," he says. "If they want to take some time getting here, then people zip first, especially if they have kids with them."
Zip and raft packages are available throughout the year and can be arranged for the Millers River (which only runs for two weeks in April), Zoar Gap, or the Dryway.