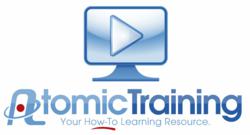 Little Falls, MN (PRWEB) March 28, 2013
Atomic Training's newly added courses can help organizations get the most out of Microsoft Office 2013. Microsoft's Office Suite has been redesigned and several common functions are now much easier to use. With courses on Excel® 2013, Word 2013 and PowerPoint® 2013, organizations are able to avoid the time that is lost due to users getting acquainted with the new Office interface. These training courses can also help users that are new to Microsoft Office feel confident in the applications they are using.
A brief description of the recently added training follows.
Excel 2013 Training -
Learn how to navigate through the basics of Excel 2013 and use some of the new features including Skycloud. Work with cells, formulas and functions along with different styles, themes and views. Read more on this course.
Word 2013 Training -
Learn how to work with Word 2013's new interface, and how to customize its look and layout for the best personal performance. Read more on this course.
PowerPoint 2013 Training -
Get a better understanding of the new PowerPoint 2013 interface, from customizing toolbars and adding animation effects to exporting your presentation as a video file, this series of tutorials will allow you to get the most out of PowerPoint 2013. Read more on this course.
With these online training courses from Atomic Training, organizations can fully utilize Microsoft Office 2013 to make the most of their software investment.
Other training added to the training library includes:

AutoCAD® 2013
iBook Author
Premiere Elements 11
Plus, a sneak peak at what's in the works:

Access® 2013
Outlook® 2013
Google Sketchup
For more information about Atomic Training, subscribe to blog.atomictraining.com, visit facebook.com/AtomicTraining, follow @atomic_training on twitter, or check them out on YouTube.com/atomictraining to view a sampling of software tutorials.
For more information contact:
Clay Moore
866.259.6890 Ext. 221
cmoore(at)atomictraining(dot)com
About Atomic Training:
Atomic Training, now partnered with Geek Squad, provides on-demand software training to help businesses, organizations, and individuals gain greater confidence and success in using the technology that is part of their professional and personal lives. They offer thousands of how-to video tutorials on over 150 software applications. For more information, please visit: http://www.atomictraining.com.