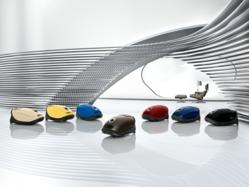 Quincy, MA (PRWEB) March 29, 2013
Miele adds four new models to the existing S8 series of canister vacuums with the release of the Calima, Kona, Marin, and Cat & Dog canister vacuum cleaners. Much like the original UniQ and Alize models which were introduced as the original S8000 line-up, these Miele vacuums are of top quality. In fact, Miele has even labeled the S8 series as the "pinnacle of performance and convenience". The low noise output, 1200 watts of suction power, and easy to use tools prove this statement to be true.
Using Miele's classic STB205-3 turbo brush, the S8390 Calima, a canary yellow canister vacuum, glides effortlessly on low to medium pile carpet. The air-driven rotating brush agitates the carpet to loosen and remove dirt and debris before suctioning it into the 4.76 quart, 9-layer bag. The Calima also comes standard with an active HEPA filter to remove airborne allergens while cleaning and four premium attachments including a dusting brush, upholstery nozzle, crevice tool and parquet floor brush.
Much like the Calima, Miele's S8390 Kona canister vacuum, a sleek obsidian black model, comes standard with HEPA filtration and four premium attachments. What sets the two models apart is the Kona's heavy-duty SEB228 power nozzle with a 14" cleaning path driven by a separate motor in the nozzle to loosen dirt from medium to high pile carpeting. Another key feature on this vacuum - and the entire S8 line - is the integrated attachments located on the body of the machine. A swiveling dusting brush, upholstery tool and crevice attachment rest conveniently under the top cover of the vacuum for easy access.
Another addition to Miele's newest series, the S8590 Marin, offers similar features to the Kona with the addition of a filter change indicator which notifies the user when the filter has reached the end of its useable life. Like the rest of the models in this line, the Marin utilizes a long electrical cord with an easy one-touch automatic rewind feature. This extra-long cord gives each machine a 33 foot wide cleaning radius to eliminate frequent outlet changes while cleaning.
The final addition to the S8 series is the Miele Cat & Dog canister vacuum which offers active air clean filtration and an STB101 turbo brush for cleaning stairs and deep cleaning upholstery. Much like the S7 upright, this canister is recommended primarily for pet owners as it includes all of the necessary tools for cleaning up after the average pet. This lightweight canister uses the SEB228 power nozzle with 5-levels of height adjustment for cleaning carpets of any pile.