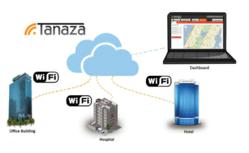 Tanaza satisfies customer demand for a simple to use solution for Wi-Fi management.
Milan, Italy (PRWEB) March 27, 2013
Founded in 2010, Tanaza's mission is to make Wi-Fi management easy and affordable, by removing the need for expensive hardware controllers and enabling remote management of any vendor access points in multiple locations through one intuitive interface.
Sebastiano Bertani, CEO of the company, said: "The combination of sustained, tough economic conditions and the rapid adoption of mobile devices in the workplace, means that organisations are looking for cost-effective, and efficient, ways of managing their network infrastructure. This is especially true in the wireless space. Before Tanaza, centralised management of Access Points was a luxury many smaller, mid-sized businesses could not afford. Now, thanks to our multi-vendor technology, it's possible to combine the right AP model with Tanaza's intuitive cloud management tool and meet the requirements of any Wi-Fi project."
Tanaza announced new channel partnerships around the globe.
Cloud Distribution – UK & Ireland
A value-added distributor of disruptive next-generation security and networking solutions that VARs can take to market quickly and easily. Its portfolio of disruptive networking and security solutions helps resellers to differentiate themselves from the competition and create new markets to sell in.
The company was founded in 2009 by senior executives with a wealth of experience in the security, networking and optimisation space. Its philosophy is to take innovative, cutting-edge vendors into the UK market by recruiting and working together with skilled, reputable, market making partners.
Adam Davison, Director of Product Development at Cloud Distribution, said: "Tanaza perfectly complements our existing portfolio, satisfying customer demand for a simple to use solution for enterprise-level Wi-Fi management at a competitive price."
Real Security – Adriatic region: Slovenia, Croatia, Bosnia and Herzegovina, Serbia, Kosovo, Montenegro, Macedonia and Albania
REAL security d.o.o. is an engineering and distribution company focused on meeting the needs of business users. They provide the distribution of software solutions and engineering of complex computer networks for customers such as banks, government organizations, telcos and other commercial companies who need reliable and comprehensive well proven solutions.
David Ivacic, Sales Director at Real Security, said: "We are very glad to be able to fulfill our portfolio with solutions from Tanaza. We see a lot of badly or even virtually un-managed Wi-Fi networks in this region that Tanaza could save, hence are very excited about our joint future".
Uniterm Direct – Southern Africa
Uniterm Direct is a leading distributor of specialist networking products in Southern Africa, distributing top-tiered international brands backed by industry leading after sales and technical support that enables their customers to deploy powerful and cost effective solutions.
ITC Consulting – France
ITC – A leading supplier of Wireless networking tools to Systems Integrators in France.
Dean Moody, CEO at ITC Consulting, said: "The Tanaza product will enable the IT world to provide better service levels to its customers".
B2B WiFi Solutions – Canada
B2B WiFi Solutions provides strategic Wi-Fi network design and infrastructure planning that is geared for today's diverse industries with one goal in mind; optimizing work flow and productivity through wireless communications."
Riccardo Sicoli, WiFi Consultant Specialist at B2B WiFi Solutions, said: "B2B WiFi Solutions is proud to have Tanaza as a cloud management solution partner. We are excited to offer an affordable solution that finally offers access point cloud management for a variety of consumer and enterprise grade products. Take back control of your business with Tanaza!"
A demo, free trial or quotation is available by contacting your local Tanaza Channel Partner or Tanaza on +39 02.8718.8553 or sales(at)tanaza(dot)com.