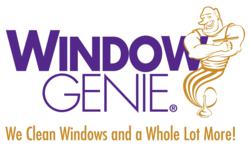 I feel secure like I'm always going to be set up for success and never alone.
Cincinnati, OH (PRWEB) March 28, 2013
It's that time of year again. The days are getting longer, and it's a good thing too! There is suddenly so much to do around the house. Spring cleaning can be a daunting task without a proper game plan. Many homeowners are able to tackle the tasks inside their home, but how many are able to get on a ladder and completely clean their own windows, siding and gutters? How many homeowners are comfortable doing that, and furthermore, have the tools and supplies to do so?
Residents and small businesses in the Charleston, SC area don't have to worry about those chores this spring. Window Genie announces the grand opening of their newest location, opening in Charleston, SC on Monday, April 1st. Window Genie is the Cincinnati based franchise of home services known to "Clean Windows and a Whole Lot More!" A whole lot more includes window tinting, gutter clean-out and pressure washing.
Before entering the world of franchising, Mike and his wife Mitchell worked in recovery ministry in Florida. They moved to South Carolina to be closer to family and Mitchell got a job at the Dorchester County Drug and Alcohol center. Mike said, "I found myself looking for work at 59 years old. I was putting my resume out to no avail, and began to think of other ways I could secure my financial future." Dobrow said he'd always thought about purchasing a franchise, and found that this was a better time than ever to explore that option. Dobrow worked with franchise coach, Chris Wright at the You Network. Wright helped Dobrow find his true strengths, weaknesses and goals. Wright then presented Dobrow with a few franchises he thought Dobrow would be successful with because of Dobrow's abilities, goals and strengths. Among them was Window Genie.
Dobrow said, "I knew I wanted to go into the home services industry, but wasn't sure about the market in my area for window cleaning. As soon as I learned more about the other services Window Genie offers I was excited to move forward in my discovery process with them." Dobrow's initial conversation with Window Genie's Founder and CEO, Rik Nonelle, furthered his interest in them. "From the first time I met Rik over the phone he was so honest and straight forward about the business. He wasn't trying to sell me on anything. Other franchises I had spoken with just had me talking to sales guys. I realized I had not spoken to any other founders or CEO's. Rik really loves what he does and is fully involved and engaged in the process. That really stood out to me." Dobrow ultimately bought a Window Genie franchise. His reasons were that Window Genie's track record is great; they've been in business for almost 20 successful years with a proven business model. Also, Dobrow felt the corporate support staff went above and beyond for franchisees, supporting them with accounting, marketing, training and more. "I feel secure like I'm always going to be set up for success and never alone. The support team at Window Genie showed more heart and drive than other franchises I'd looked into."
Mike and Mitchell Dobrow open for business officially on Monday April 1. Window Genie offers residential and commercial window cleaning, window tinting, pressure washing, gutter clean-out and more. To learn more about Window Genie of Charleston or for a free estimate, call (843) 870-8204 or email mdobrow@windowgenie.com
Franchise opportunities available nationwide. Call (800) 700-0022 for more information
###