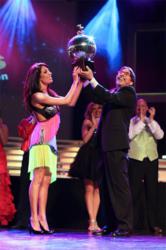 Branson, MO (PRWEB) March 29, 2013
Mr. Pat Joyce, President and CEO of Summer Winds Resort Services, LLC., has won the 2013 Dancing with the Stars of Branson. Raising nearly $13,000 for his charities, A Day for Shay & Pals, Boys and Girls Club of the Ozarks, and Our Lady Cares, Mr. Joyce and his partner, Stephanie Richardson, blew the crowd away with their rendition of the salsa and walked away with the Mirror Ball Trophy.
The 4th Annual Branson Community FUNdraiser was held at the Dick Clark's American Bandstand Theatre for the second year in a row. Hosted by Bob Nichols, along with a panel of judges including Barry Williams, the 70's Music Celebration; Steve Willoughby, HomeTown Radio; and Michelle Willadsen, Dance Revolution, the competitors raised more than $30,000 for local charities.
"Stars" included in the competition were Garrett Anderson, developer for the City of Branson; Stephanie Barney, CEO of Lightspeed Electrical Services; Cy Bortner, Herschend Family Entertainment; Laurie Hayes, Executive Director of the Branson Lakes Area Lodging Association; "Shotgun" Steve Kelly, radio personality and DJ; and Maria Neider, anchor for Ozarks Today on KY3.
All contestants performed during the first half of the show and audience members were then able to "vote" with their dollars for their favorite couple. Mr. Joyce and Ms. Richardson dominated with nearly $13,000 in votes, thus earning them the Mirror Ball Trophy.
The proceeds will be divided between A Day for Shay & Pals, Boys and Girls Club of the Ozarks, and Our Lady Cares. A Day for Shay & Pals is an organization that partners with Generation Rescue to help families and children with autism through various community events and gatherings. The Boys and Girls Club of the Ozarks serves as a wonderful place where children can learn and gather after school, enhance character development, and participate in group activites. Mr. Joyce has also been instrumental in the charitable donations for the Lady of the Lake Church and Our Lady Cares, a program designed to help the homeless in the Branson area and those children who do not have access to food while they are not in school. "These three charities are dear to my heart and will help raise awareness in the community and are in need of our continued support," stated Mr. Joyce.
Summerwinds Resorts Services, LLC operates and sells boutique themed resorts in Branson, Missouri and Genoa/Lake Tahoe, Nevada. Summerwinds Resorts has created the successful Stormy Point village at Table Rock Lake and is now reviving the historical charm and personality in 1862 David Walley's Hot Springs Resort and Spa. Stormy Point Village is a Cape Cod; New England styled property with upscale services and amenities. 1862 David Walley's Hot Springs Resort and Spa harkens back to the Pony Express days, as a rustic mining town with charming cabins and a historical themed clubhouse, nestled between native wetlands famous for its Bald Eagle sightings and the foothills of the Sierra Mountain Range. Summer Winds team consists of over 400 employees working in five states with a common goal: service to the customer.