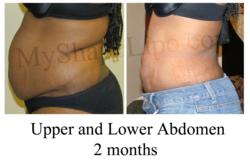 It's amazing how well these older patients do with this procedure.
Las Vegas, NV (PRWEB) March 28, 2013
Mary Kautz, 88 year old from Las Vegas, NV made the decision that she would not succumb to the unwanted pockets of fat that she has been unable to rid herself of over the years. "I eat right and swim 4 days a week, but I just can't seem to get rid of this belly fat," says Kautz.
Mary is among a growing population of baby boomers that hope to defy the signs of aging. "I don't feel my age, so why should I look it," argues Mary. This growing trend has lead to an increase of older patients seeking cosmetic procedures to make them look and feel younger. Mary chose abdominal liposuction to help her accomplish what she has been unable to achieve despite diet and exercise.
MyShape Lipo, a liposuction specialty clinic located in Las Vegas is dedicated to catering to this growing population of baby boomers. With advances in liposuction, the procedure can now be done exclusively under local anesthesia. This has significantly improved the safety profile of the procedure, completely eliminating the serious risks of general anesthesia.
According to a study from the American Academy of Cosmetic Surgery (AACS), an increasing number of Baby Boomers and older individuals are pursing cosmetic procedures like never before. AACS Statistical Reports show that about 28% of individuals getting cosmetic surgery are 42 years of age or older. According to AACS Procedural Data Reports, Liposuction is the leading cosmetic procedure for Baby Boomers in their 40's and 50's.
A recent survey of 896 patients treated at MyShape lipo found that 47% of patients were 45 or older. The common story with this group of individuals is that they have tried diet and exercise, but are unable to accomplish the results they desire. With normal changes that occur with aging, their lack of results is likely not due to lack of effort.
As one ages, there metabolism slows down and their hormone balance changes both of which leads to difficulty with weight management. In addition, many people develop physical ailments which inhibit them from many exercises they may have done when they were younger. The National Institute of Aging is working diligently to help these individuals with information to assist with age appropriate diet and exercise tips. Unfortunately, there are still those that are unable to reach their goals with diet and exercise alone.
Since liposuction can be done under local anesthesia, it is now a very safe alternative for these individuals. The procedure is perfect for those who wish to remove unwanted pockets of fat, but do not want the risks and complications of general anesthesia. Liposuction can now be done in an office setting and the patients are able to walk out on their own shortly after the procedure.
Trevor Schmidt PA-C, the liposuction specialist at MyShape Lipo says, "It's amazing how well these older patients do with this procedure. It changes their lives and it seems to be much more than cosmetic for these people." A recent study presented at the American Society of Plastic Surgeons (ASPS) showed that liposuction decrease bad cholesterol 43% and effectively reduces the risk factors for diabetes, heart disease and stroke.
With over 10,000 liposuction procedures performed, the team at MyShape Lipo have the experience to safely make the changes the baby boomers demand. For complimentary consultations in person or via phone with photos, call 702-818-5476. To view their patient photo gallery, visit them online.