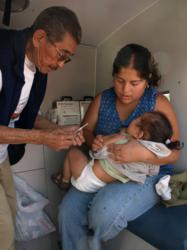 "Our data shows how weakened immune systems leave people with one disease vulnerable to multiple diseases like TB, diabetes and HIV/AIDS. This program leverages resources to improve patient treatment and success rates," states Blanca Lomeli, PCI Mexico.
Tijuana, Mexico (PRWEB) March 27, 2013
Through its SOLUCION TB program, PCI Mexico is working with Mexican public health agencies and other partners to reduce the number of people who die of TB and significantly increase the number of people who are fully cured. PCI has built a reputation for its unique approach to TB, which involves strengthening the overall system for TB prevention and control at local, state and national levels, and promoting a person-centered model. In collaboration with USAID and the Mexican Government, PCI's TB and co-morbidities program has reached over 10 million individuals with prevention messages and has resulted in improved testing of TB in people with TB (from 50% to 91%), and higher testing of TB in individuals with HIV/AIDS from 20% to 81%.
According to the World Health Organization, one out of every three individuals in the world is infected with the TB bacteria. Globally, an estimated 8.7 million new cases of TB were reported in 2011, and in 2010, 1.4 million died from the disease. The growing problem of multi-drug resistant (MDR) strains of the disease which is much more difficult to treat and cost 100 times more (on average) to treat, is putting added pressure into public health systems. In México, of the over 18,000 individuals diagnosed with TB in 2012, over 20% have diabetes and over 7% have HIV/AIDS. HIV/AIDS accounts for over 30% of the deaths in people with TB; and research conducted in México has shown that individuals with diabetes are 7 times more likely to develop tuberculosis than those without diabetes.
Since 2006, PCI worked with the Ministry of Health in México to achieve important changes in TB prevention, treatment and cure. In 35 priority municipalities from 13 different states throughout the country, the public health system integrated a person-centered approach into TB prevention and care. This allows people to receive quality care from health workers who focus as much on individual needs as on ensuring treatment completion. PCI worked with the National TB program to strengthen their collaboration with the Diabetes and HIV/AIDS departments to successfully integrate screening and referrals for HIV/AIDS and Diabetes for those with TB, resulting in over a 70% increase in screening for both diseases. In total, the program trained over 4,500 physicians, nurses, pharmacists, lab technicians, and social workers, and screened over 14,000 persons affected by TB, HIV/AIDS or diabetes.
At a macro level, the testing of HIV for people affected by TB was incorporated as part of a set of "indicators of excellence" that the Ministry of Health uses to assess the annual performance of the 32 state health departments in the country; by the end of the 2012, PCI and the National TB Program convened clinical and basic-science experts to discuss the state of TB-HIV/AIDS and TB-diabetes comorbidities care and prevention in the country and identify key recommendations to improve screening and referrals. México is recognized as a pioneer in TB-diabetes collaboration in the Americas.
"Our data shows how weakened immune systems leave individuals with one disease vulnerable to multiple diseases like TB, diabetes and HIV/AIDS. This program leverages health resources to improve patient treatment and success rates," states Blanca Lomeli, Country Director for PCI Mexico.
For more information on PCI's TB programming in México, visit PCIGlobal.org; for more information on the STOP TB partnership's World TB Day resources visit: http://stoptb.org/events/world_tb_day/2013/
Celebrating its 50th anniversary in 2011, PCI (Project Concern International) is an international health, development and humanitarian assistance organization, operating in 16 countries worldwide. PCI is dedicated to saving lives and building healthy communities around the globe, benefitting over 6.7 million people annually in Asia, Africa and the Americas. Funded by federal grants and private support, PCI's current annual budget is nearly $50 million and the organization has 600 employees worldwide. PCI's headquarters are located in San Diego, CA and also has an office in Washington, DC and a Seattle, WA representative.