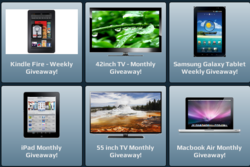 "We're excited to give several of our loyal members a big gift to thank them for visiting and spreading the word about our site."
Los Angeles, CA (PRWEB) March 28, 2013
RedRockInsights.com will award several state-of-the-art devices like a Macbook Air laptop, two large screen televisions, a surface tablet, and an iPad to its members at the end of March. In just a few weeks since its web debut, the stock market education website has already generated quite a buzz.
Though the monthly drawings are the site's largest to date, they are hardly the first prizes to be rewarded. On a weekly basis, Red Rock Insights has gifted other technological gadgets. Already this week, Debi of Franklin Square, New York won an iPad, Steven of Pocahontas, Arkansas won a Kindle Fire, Nicole of McArthur, Ohio won a Samsung Galaxy tablet, and Sherry C. won an iPad mini.
To enter each drawing, members of RedRockInsights.com redeem points they have earned on the website. Members can obtain points by completing quizzes, reading mini-lessons on the stock market, commenting on the pages, and sharing content via their social media accounts.
"The comments on our Facebook page confirm that the monthly drawings are what our members have been most looking forward to," said Dan Stevens of Red Rock Insights. "We're excited to give several of our loyal members a big gift to thank them for visiting and spreading the word about our site."
Members of RedRockInsights.com have until Sunday March 31 to redeem points to be in the running for the big monthly prizes. It's not too late for new members to join the site and enter for a chance at winning.
April will be particularly exciting for Red Rock Insights. In addition to offering even more prizes, the finance website will roll out a new fantasy stock market game. Members can trade stocks, bonds, ETFs, and options in real time, competing against other members' portfolio performances for thousands of real dollars in cash prizes.
Of course, not everyone visits RedRockInsights.com for the prizes. Some come just for a better understanding of the stock market. The goal of the website is to clear up the confusion surrounding investing and the market with easy to understand lessons and quizzes. The prizes are just a bonus to incentivize learning and reward members for taking the time to educate themselves.