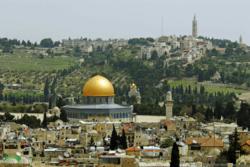 (PRWEB) March 29, 2013
Intrepid Vacations is pleased to unveil its enhanced collection of 2013 Israel tour packages featuring exclusive inclusions that take travelers to live the religious heritage and historical attractions of each city and village they visit for an in-depth and authentically enriching life-changing experience.
"Requests for truly in-depth faith-based travel itineraries continue to grow at an ever-increasing rate and we are pleased to answer the call for these kinds of inspired experiences with our new collection of programs to Israel that offer travelers even more unique opportunities to walk in the remarkable footsteps of their spiritual leaders," said Brian John, President of Intrepid Vacations.
"In addition to the recognized and sacred religious sites throughout the country, our Israel vacation packages offer a variety of options for travelers seeking excitement. For example Eliat in the Red Sea region is filled with cafes, theaters and night clubs, health resorts and vast stretches of beaches with outdoor adventure activities -- such as the Dolphin Reef, Camel tours, ATV and much more. Our destination expertise guarantees the exposure Israel travelers seek for a lifetime of memories they will enjoy sharing with friends and family."
Here's a look at some of the new 2013 faith-based Israel travel tour packages exclusively offered by Intrepid Vacations:
ISRAEL ESCORTED TRAVEL TOURS:
-- Israel Pilgrims Tour -- from $1475
8 days / 7 nights (4 nights Jerusalem, 2 nights Galilee, 1 night Tel Aviv)
Travelers will journey on a spectacular tour of Israel encompassing the intriguing Dead Sea Scrolls and Yad Vashem Holocaust Museum as well as Bethlehem's Manger Square and Church of the Nativity and beyond to experience the Dead Sea, Jericho, Nazareth, Syria, and the shores of the Sea of Galilee.
-- Israel Holy Land -- from $1362
8 days / 7 nights (4 nights Jerusalem, 2 nights Galilee, 1 night Tel Aviv)
Sacred treasures of the past await travelers seeking discovery on a vacation to Israel with Intrepid Vacations' Israel Holy Land tour package. This adventure begins in Jerusalem where travelers visit the Mount of Olives, Mount Zion, home of King David's Tomb; and step into the Room where the Last Supper took place. Pilgrims will walk the actual Stations of the Cross and end at the Church of the Holy Sepulcher, or shop the outdoor bazaars for authentic artifacts and treasures to take home. The trip continues with time in the Dead Sea, Tiberias, Capernaum as well as visits to the coastal areas of Acre, Haifa, Megiddo and Tel Aviv.
-- Israel Splendors -- from $1378
8 days / 7 nights (1 night Tel Aviv, 3 nights Jerusalem, 2 nights Galilee, 1 night Tel Aviv)
From historic Jerusalem and Bethlehem to Nazareth, Tel Aviv and travelers will explore this magnificent part of the world that has been recounted in stories for centuries. Visit the Dead Sea to take a dip in the mineral waters, and then tour the rock fortress of Masada, Herod's great palace and the mountains around Jerusalem. This splendid Israel vacation takes travelers to Jericho, Tiberias, Capernaum and Nazareth, and beyond to visit the fortresses, churches, mountains and gardens in Acre, Haifa, and Tel Aviv.
-- Israel & Petra Wonders -- from $1976
10 days / 9 nights (1 night Tel Aviv, 2 nights Tiberias, 4 nights Jerusalem, 2 nights Eilat)
On this Israel & Petra travel tour, the wonders of these captivating destinations await with opportunities to explore Tel Aviv, Tiberias, Jerusalem and Eilat. The adventure begins in Jaffa, and then it's on to the ruins of Herod the Great in Caesarea before visiting Megiddo. Along the journey travelers will explore Capernaum and the Mount of Beatitudes. Then it's on to Hula Valley, Masada for a dip in the Dead Sea, and time to delve-into Qumran where the enigmatic Dead Sea Scrolls were discovered. Jerusalem is the next sojourn, plus a short flight to Eilat to enjoy the Red Sea before exploring the Jordanian desert and the rose-red city of Petra.
-- Israel & Petra Pilgrims Tour -- from $1813
9-days / 8 nights (4 nights Jerusalem, 2 nights Galilee, 1 night Tel Aviv, 1 night Aqaba)
Travel to Jerusalem, Tel Aviv, Petra and more on this Intrepid Vacations' 9-day Israel & Petra Pilgrims Tour. Travelers will visit the famed Masada and will float in the salt and mineral-packed waters of the Dead Sea. Then it's on to explore the old and new sections of Jerusalem including the town of Bethlehem, the Stations of the Cross, Manger Square and the Church of the Nativity. From Jerusalem pilgrims travel to Nazareth and Galilee, visiting Mary's Church and then touring Safed, the city of Mystical Judaism. This Israel vacation portion concludes in Tel Aviv with a city tour of Jaffa before boarding a flight to Eilat for a tour through the Jordanian desert and a night in Aqaba plus a tour of the rose-red city of Petra.
-- Jewish Heritage -- from $1722
10 days / 9 nights (2 night Tel Aviv, 2 nights Galilee, 5 nights Jerusalem)
The Jewish faith-based Israel tour commences in Tel Aviv, alongside the deep blue of the Mediterranean Sea where travelers will tour the aqueducts and amphitheater in the port city of Caesarea. Highlights of the next few days include exploring the source of the Jordan River, adventuring by jeep to discover Golan Heights, traveling down the fertile Jordan Valley, experiencing a blessing at the top of Mount Scopus overlooking Jerusalem, and meeting with a Kibbutz member to learn about their unique lifestyle. Travelers will explore Jerusalem's treasures at leisure – featuring colorful bazaars, ancient temples, and museums brimming with religious artifacts, as well as historic shrines and palaces.
INDEPENDENT ISRAEL VACATION PACKAGES:
-- Israel Prelude -- from $806
5 days / 4 nights (4 nights Jerusalem)
Intrepid Vacations' Israel Prelude vacation wraps the very best attractions and experiences of this rich destination into a 5-day Israel travel tour. Beginning and ending their journey in Jerusalem, travelers will explore the biblical highlights of old world and modern Jerusalem…from Yad Vashem Holocaust Museum and the ancient Roman marketplace to the authentic Stations of the Cross and the Church of the Holy Sepulcher. Departing Jerusalem for a spell, travelers venture to the lowermost place on earth where they can float in the mineral and salt-rich waters of the Dead Sea and even see where the Dead Sea Scrolls were discovered.
-- Eilat & Negev Desert Tour -- from $715
3 days / 2 nights (2 nights Eilat)
On this adventure, travelers discover Eilat, where they can explore the copper mines of King Solomon, tour the underwater observatory built into a coral reef and Israel's Air Force Museum. Take an optional tour to the rose-red city of Petra, enjoying a scenic drive through the Jordanian desert and across the Arava border. Departing Eilat travelers can gaze into the Ramon Crater before traveling through the great Negev Desert. Next travelers have the opportunity to ride a camel before entering an authentic Bedouin tent to savor exquisite local cuisine and welcoming hospitality for a truly authentic experience in Eliat & the Negev Desert.
Starting from rates detailed above are per person, land only, based on double occupancy. For more details on the company's expansive range of Israel tour packages, visit http://www.intrepid-vacations.com.
About Intrepid Vacations
Intrepid Vacations is dedicated to delivering travel programs that take travelers to truly experience destinations throughout Europe and the Middle East in an authentic and inspired way. Each itinerary is developed to offer travelers an unparalleled experiential, cultural and social travel program. The company offers an expansive array of travel programs commissionable to agents including Independent Travel Packages, Escorted Motor Coach Tours, Honeymoons, Fly and Drive Tours, Culinary/ Food & Wine Tours, Group Tours, Nile River Cruises, Aegean Cruises, as well as fully customized trips.
Intrepid Vacations travel programs include centrally located accommodations, deluxe motor coach or private car transfers, breakfast daily, knowledgeable tour escorts or local guides during sightseeing and attractions visits, guaranteed departures on escorted tours with a minimum of two persons for select destinations.
MEDIA CONTACT:
Marlene Oliver, NJC Communications
(305) 491-0512, moliver (at) njccorp.com