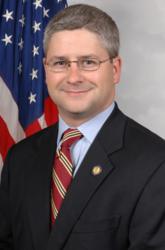 Equity Crowdfunding promises to bolster new business formation in the United States by making more capital available for startups, a sector that has been starved by the traditional investment and lending institutions.
Las Vegas, NV (PRWEB) March 27, 2013
The 2nd Annual Crowdfunding Conference and Bootcamp is pleased to announce that this year's Crowdfunding Visionary Award TM will be presented to Congressman Patrick McHenry (R -NC). McHenry originally sponsored the equity startup exemption provisions of the JOBS Act and navigated it through a polarized House to an almost unanimous passage. After being amended and passed by the Senate, President Obama signed in on April 5, 2012.
This was a momentous effort in that it helped, as McHenry has written, "our nation's leaders ... to learn and embrace a new and democratic form of capital formation."
Because conventional forms of financing, such as venture capital and small business loans, are no longer viable options for earlier stage companies, many have been desperately seeking alternative capital raising methods, such as Crowdfunding.
"Countless young, ambitious entrepreneurs are out of luck as they look for capital to expand and compete on the open market," writes McHenry in his chapter for the #FixYoungAmerica book. Crowdfunding, says McHenry, is the solution to those problems. It would allow entrepreneurs to raise money from many different investors, each pitching in a small amount compared to angel investors and their giant checks.
Crowdfunding has already matured into nearly a 3-billion dollar industry, and with the implementation of the Jobs Act, it is forecasted to grow exponentially as more and more entrepreneurs, investors and members of the financial community propagate the marketplace.
"Equity Crowdfunding promises to bolster new business formation in the United States by making more capital available for startups, a sector that has been starved by the traditional investment and lending institutions," says conference creator and producer Ruth E. Hedges, "
 
"By utilizing internet technology and social networking platforms, today's entrepreneurs are tapping into an expanding source of startup and small business funding," adds co -host Dara Albright, Founder of NowStreet, "and Patrick McHenry is the technologically savvy lawmaker whose efforts helped to make it happen."
Last year's honorees were the entrepreneurial citizen-lobbyists Sherwood (Woody) Neiss, Jason Best and Zak Cassady-Dorion, who helped to write and talk the Startup Exemption of the Jobs Act through congress.
 
The 2nd Annual Crowdfunding Conference and Bootcamp, October 13-16, is the largest gathering of its kind, bringing together the leaders, professionals and companies who are actively creating the equity crowdfunding industry, and the entrepreneurs looking to create and finance new businesses utilizing crowdfunding. Comprised of the largest gathering of industry professionals, this year's convention is designed to provide participants with an unparalleled informational and networking experience. This is the must-attend event for entrepreneurs and small business owners, investors, crowdfunding professionals and enthusiasts, funding portals, investment bankers, financial advisers, VCs, angels, incubators, business coaches, mentors, secondary stock specialists, equity analysts, journalists as well as tax, legal experts. Congressman McHenry is expected to personally accept the award and participate in the 3-day event.
 
 
ABOUT CROWDFUNDINGROADMAP
 
The Crowdfundingroadmap Hatchery is a new ecosystem of crowd investing best practices for Issuers (entrepreneurs) and Intermediary (registered funding portals and Broker/Dealers) to build a pipeline of quality dealflow resulting in a faster crowdfund investing process for the entire industry.The Hatchery is a private network built using Web 3.0 Fundingroadmap technology, which offers a simple and convenient way for entrepreneurs to list their investment opportunities with an Intermediary (registered Funding Portal or Broker/Dealer), for compliant deal flow. The Hatchery offers a unique, integrated cloud based solution for transparency and due diligence disclosure requirements and will have a transformational effect on the Crowdfunding industry as it builds end-to-end business solutions in conjunction with the Fundingroadmap reporting system. The reality is that Startup and emerging businesses are desperate for new capital and the Hatchery helps in the capital formation life cycle by providing the resources to becoming compliant. Converting to the Crowdfundingroadmap system will dramatically change the economic landscape, help stimulate sound economic growth and get much needed capital into the hands of more compliant and successful companies. Additional information can be found at http://crowdfundingroadmap.com
 
ABOUT NOWSTREET MEDIA
Symbolizing the Wall Street of tomorrow, NowStreet is a leading financial media, events and advisory company on the forefront of financial innovation. Known for its cutting-edge market commentary and acclaimed crowdfunding events that feature some of the most prominent speakers in the financial industry as well as the legislature, NowStreet endeavors to enable issuers, investors as well as traditional financial service providers capitalize during this unprecedented period of financial industry disruption and regulatory reform. Additional information can be found at http://nowstreetjournal.com/
This information is being distributed for the client, by Philip Cardwell at Universal Media Consultants. From top magazines to leading TV stations, UMC has been very effective at distilling client's messages in the major national media. The aim is simple. To multiply message impact and client exposure in highly targeted markets, quickly, imaginatively, and cost-effectively. For more information visit: http://www.universal-media-consultants.com