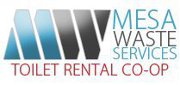 Poo & Pee Portability in Miami
Miami, FL (PRWEB) March 27, 2013
Miami portable toilets can come handy in lots of situations. "When planning to host big outdoor events like concerts, there should be enough portable toilets to cater for all people who are in attendance," says Ben G., a leading portable sanitation solutions specialist with Mesa Waste Services. In addition, most construction centers contain partial constructions, since there's not enough time to establish permanent toilets. Mesa Waste Services makes it easy to rent Miami portable toilets, for short time periods and therefore save some money.
The first step should be looking through the register of attendees, always ensure that the total amount ordered perfectly suits those who have shown interest in coming through. Porta Potty organizers believe that the best rule of practice should be a single portable toilet serving 50 people, for up to three hours of public use. "In case the event takes more than three hours, add one more unit for emergency sake," says Ben G., of Mesa Waste Services Miami.
Always Consider the gender and physical condition of those who would be using the potty units. For instance, women would definitely need a different bathroom section from their male counterparts. Plus those who are in wheelchairs or using walking apparatus, may require a special unit, that suits their needs, also give a keen heed on the overall setting of portable toilet placement, and how to space the assemblage.
"Assess the type of Miami portable toilets you would use. One can choose basic portable toilets, wheelchair-accessible toilets or even luxury mobile toilet trailers," says Ben G. Consider the people who would be using these toilets and also the events at hand, there are also many porta potty service providers who can be accessed online.
In addition, ask various bathroom sales representatives few questions concerning their respective offerings. Again, ensure to inquire more about cleaning and overall disposal standards of the toilets. It's also important to consider some additional amenities that the rental structures may require, some of them are air fresheners and simple hand sanitizers.
After the obtaining Miami porta potties and they have officially been delivered, the next step would be conducting a thorough inspection to guarantee that they're in perfect form. Along with that, possibly hiring security, may be beneficial to users of the portable toilets, especially when used at night. Some may take advantage of the fact that, the units are secluded, thus to robing and stealing from unsuspecting victims who come to relieve themselves.
These structures are quite important in outdoor occasion like festivities, concerts and so on. There are two key procurement methods available with this product, you may either rent or decide to buy it fully for long term use. You can also choose amongst three different packages which are convenient toilets, luxury itinerant trailers or wheelchair based editions. Take good care when obtaining Miami porta potties, to return them in perfect form.