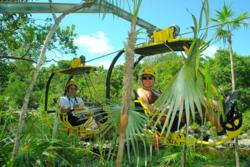 A unique nature journey surroounded by the region's most amazing flora and fauna.
Cancún, Quintana Roo (PRWEB) March 29, 2013
Xel-Ha park from Experiencias Xcaret provides one of the most extraordinary settings in the Cancun-Riviera Maya area. It is the best place for snorkeling and getting to know the marine life in a 34-acre inlet coming from the Caribbean Sea, which contains the world's largest system of underground rivers, and is home to truly awe-inspiring ecosystems. Hundreds of colorful fish and more than 200 species of marine fauna make it a privilege to visit Xel-Há.
At Xel-Há underwater life is one-of-a-kind, but surprises can also be found on land in over 148 acres of low jungle vegetation, where cenotes (sinkholes), caves and lagoons offer unique settings to enjoy.
One of the new attractions at Xel-Há is Zip-Bike, a combination bicycle and zip line that affords visitors a unique journey through nature, surrounded by the region's incredible flora and fauna. The attraction consists of a 1,640-foot bike route suspended from a cable that runs above the jungle, cenotes and mangroves at a height of up to 23 feet. During this experience you can enjoy spectacular views of the jungle and grottoes of Xel-Há.
At the Zip-Bike station, the staff will explain what the activity consists of, adjust the pedals to each person's need, and point out security measures. Then, all you need to do is start pedaling and enjoy the wonderful sights that nature in all her majesty has to offer.
Other activities are also available at Xel-Há: Swimming with Dolphins; Cenote Snuba, an adventure that allows you to explore the depths of a Mayan sinkhole; Manatee Encounter, which allows visitors to feed and interact with these gentle creatures, an endangered species that is protected and cared for at Xel-Há.
Xel-Há is dedicated to studying the ecology and preserving the flora and fauna of the region, which is why it is constantly developing programs for environmental education, protection and conservation, including the Queen Conch Conservation Program to help preserve this endangered species; there is also a center for recycling waste generated in Xel-Ha's public areas as well as a treatment plant to recycle the park's wastewater.
Information:
Iliana Rodríguez
Chief PR and Communications Officer
irodriguez (at) experienciasxcaret (dot) com.mx
Cel: (044) 998-845-5644