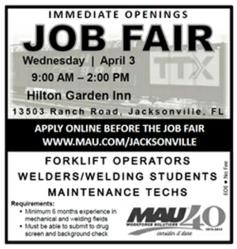 Jacksonville, FL (PRWEB) March 28, 2013
Join MAU Workforce Solutions on Wednesday, April 3 from 9AM-2PM in Jacksonville, FL to interview for the following positions: Forklift Operators, Welders/Welding Students, and Maintenance Technicians. Interviews will take place at the Hilton Garden Inn, located at 13503 Ranch Road in Jacksonville.
All applicants must submit to a background check and drug screen. Job fair attendees will be interviewed on a first-come, first-served basis for consideration in the available positions.
Applicants are also strongly encouraged to apply online prior to arriving at the job fair. Doing so will expedite the interview process.
Click the following link to apply today: http://www.mau.com/jacksonville.
MAU Job Fair: Wednesday, April 3
9:00AM-2:00PM
Hilton Garden Inn
13503 Ranch Road
Jacksonville, FL
MAU offers optional benefits to associates including medical, prescription, dental, vision, 401K, and life insurance. MAU Workforce Solutions provides equal employment opportunities for all applicants, regardless of race, religion, color, sex, or national origin, age, veteran status, disability or any other characteristic protected by law. MAU is an Equal Opportunity Employer.