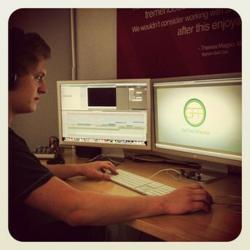 We felt having a fundraising video describe what we do and who benefits from our efforts would be the ideal way to share our message at our events and on our website, and inspire involvement. — Joan Busick, Founder and CEO of The GirlFriend Factor
La Quinta, CA (PRWEB) March 27, 2013
Equipped with a newly Point7West produced fundraising video, non-profit charitable organization, The GirlFriend Factor, raises funds and awareness to aid women in pursuit of a higher education. Awarding educational grants towards college tuition and expenses, along with an established network of successful professional women to provide guidance and support, The GirlFriend Factor has proven to be a valuable resource for women helping women. Getting the message out about the economic and self-sufficiency gains attaining a higher education fosters has become a top priority for the organization.
Premiering its fundraising video at a special event this month, The GirlFriend Factor video profiles recipients and donors alike through their testimonials about how the organization has impacted their lives. With the United States being the 5th most charitable nation in the world, effectively stating the purpose of any donor solicitation is crucial in the ask. "The name of our great organization, The GirlFriend Factor, always draws a smile, but also begs discussion and explanation," says Joan Busick, Founder and CEO of The Girlfriend Factor, and accomplished author and business owner. Busick continues, "We felt having a fundraising video describe what we do and who benefits from our efforts would be the ideal way to share our message at our events and on our website, and inspire involvement."
Founded on a strong belief that education is the key to economic advancement, The GirlFriend Factor is a not-for-profit 501(c)(3) organization that aims to ensure higher education and occupational training are financially accessible to adult women. Its mission is to celebrate and explore the powerful influence women have on each other's lives through building friendships, sharing experiences and providing financial support in the form of education grants to motivated women. "I have enjoyed working with Point7West for video production for many years now; they are great at pulling the story out and putting it all together masterfully, on time and on budget. It's always a home run," enthuses Kate Spates, active board member on the Advisory Council of The GirlFriend Factor.
ABOUT POINT7WEST
Point7West is a results-driven video marketing company that has specialized in providing strategic video solutions for over 250 companies nationally and abroad, for more than a decade. Point7West produces award-winning, creative videos for business and other organizations in a wide range of industries.