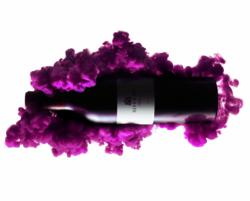 London (PRWEB UK) 29 March 2013
Until now, photography in the wine industry has remained fairly conservative, with simple bottle and vineyards shots being the favoured choice. Corney & Barrow however has made quite a splash (literally) with its iconic photography of Tenuta di Biserno, in which a bottle of wine is suspended in an ink infused water tank. Seeking to recreate the experience of actually tasting the wines, Corney & Barrow strives to evoke the flavours and textures of the wine in its visual imagery of Tenuta di Biserno 2009.
This new concept was called upon to reflect the maverick personality of both the winemaker Lodovico Antinori and his wines. An indestructible warehouse in Parson's Green was chosen as the preferred location to install a large tank full of water, in which a bottle of the prestigious Biserno 2009 was suspended by two sets of invisible wire. A purple dye was injected into the tank, to reflect Biserno 2009, which is purple, ruby in colour and bursting with blackberry and rich red fruit flavours.
Having little idea what the outcome would be, a few attempts demonstrated the need to add a thickener to the solution, and milk was the chosen ingredient. A camera positioned underneath the tank pointing upwards, captured the ink substance as it was diffusing. The outcome is an iconic image that represents the elegance and true character of the wine and is unlike any other photography in the industry.
The avant-guard imagery is particularly fitting for Tenuta di Biserno, that is no ordinary wine estate. There are over 600 years of winemaking legacy in the Antinori family, and small wonder that the name reverberates throughout the wine world. Steeped in this history, Lodovico Antinori's imagination and vision have created world class wines. His ultimate project, Tenuta di Biserno is a 90 hectare estate situated in Tuscany among the rolling hills of the Upper Maremma. Using exclusive Bordeaux varietals, his "super-tuscan" wines of 2009, Biserno and Il Pino di Biserno are testament to his unique talents. The latest 2009 vintage is "different, less opulent than the previous ones, but elegant and long-lasting" according to Lodovico himself.
For over 200 years, Corney & Barrow has been a touchstone of excellence in wine. Today, just as in 1780, the wine merchant is distinguished by its passion and innovative spirit. It has nurtured wonderful relationships with both valued customers and the finest winemakers – estates producing magnificent classic wines, as well as pioneers breaking new ground with contemporary styles. Corney & Barrow has led the way in championing wines that have become internationally renowned and has an unsurpassed portfolio, from bottles offering outstanding value for everyday drinking to en-primeur cases for laying down. The company is honoured to hold two Royal Warrants and is equally proud to have set new standards in service and impartial advice for all its customers. Let Corney & Barrow transport you on a journey of discovery in the fascinating world of wine.