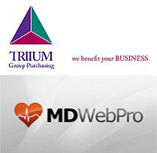 "You have been a tremendous help to me, and it has been nice working with someone with ethics in this field. You are literally 1 in 100, and I truly appreciate it."
Allison Kendrick, M.D.
Austin, TX
Minneapolis, MN (PRWEB) March 28, 2013
MDWebPro, a division of Digital Solutions, Inc. has announced a business resource partnership deal with Minnesota based TRIIUM. The partnership allows TRIIUM members access to the MDWebPro SEO Inbound Advisor suite, as well as access to the MDWebPro web design team at a discounted rate.
The MDWebPro Inbound Advisor is a powerful suite of tools that offers personalized SEO ranking research and topical analysis grading, Google Analytics integration, site management, submission to the Localeze content manager, competition tracking, in-depth keyword research, and more.
TRIIUM members will also have access to the expert web design and development team of MDWebPro. Utilizing a simple and straightforward design process, MDWebPro can assist TRIIUM members with new site design or redesign, integration of design with content management systems (CMS), the transfer of existing site content to CMS, site content creation, and more.
"Inbound Advisor and the Insights software platform allows for detailed reporting of results — which is critical in determining success. We have seen traffic from organic search increase 51% in the last 30 days and are very happy with the service."
Jeff Esson, Intechrp.com
Digital Solutions, Inc. out of Minneapolis hosts the MDWebPro Blog and suite of applications helping doctors across the United States and abroad to better utilize and measure inbound marketing. To learn more about MDWebPro or Digital Solutions, Inc. visit MDWebPro.com or call 800-941-0378.