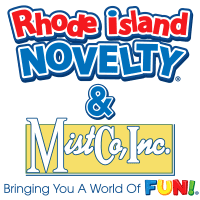 "Mistco's product line and Stuart's design talents will complement and strengthen Rhode Island Novelty's Adventure Planet and the Custom Imprinting Divisions as well as opening new opportunities for both companies' product offerings."
(PRWEB) March 29, 2013
Rhode Island Novelty® (RINCO), the nation's largest supplier of amusement toys and novelties to both businesses and consumers, announced today that it has acquired Mistco, Inc., a leading full service supplier offering an extensive line of quality jewelry, gifts, custom souvenirs, and novelties to zoos, aquariums, museums, and resort based gift shops throughout the Americas and Caribbean markets.
Based in Miami, Florida, Mistco prides itself on providing an extensive line of unique products and outstanding customer service since 1959. From educational books to gold plated jewelry to impulse buy and custom created items, Mistco continually offers retailers fresh, new ideas, and merchandise, that uniquely blends current trends into their nature themes.
"In addition to the acquisition came the most important asset, Stuart Freides, Mistco CEO, who has joined the Rhode Island Novelty team and will continue the direction Mistco has taken for more than fifty years," stated Robert Nowak, Rhode Island Novelty CEO and President. "Mistco's product line and Stuart's design talents will complement and strengthen Rhode Island Novelty's Adventure Planet and the Custom Imprinting Divisions as well as opening new opportunities for both companies' product offerings."
The Mistco acquisition enhances Rhode Island Novelty's goal of providing customers with a one-stop shopping experience and compliments other recent acquisitions which include: Nanco-Nancy Sales, Co. (NANCO), GiftCo, Inc., Nadel & Sons Toy Corp., and Northeast Imports, Inc.
About Rhode Island Novelty
Rhode Island Novelty® (RINCO) is the nation's leading importer and wholesale distributor of novelty toys, giftware, stationery, and incentive merchandise. Located in the Northeast and based in Fall River, Massachusetts, RINCO has become one of the largest suppliers of novelty toys, giftware, stationery, and a number of other products. Founded in 1986, RINCO has a dedicated and knowledgeable staff that has helped us to become THE choice for Price, Product, and Performance. For more information on Rhode Island Novelty or to view the company's online catalog, visit: http://www.rinovelty.com