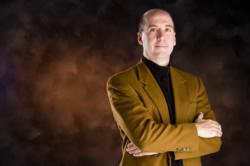 Thinking of Big Data as the new "oil" is a useful but incomplete analogy for understanding the field's vast potential.
San Francisco, CA (PRWEB) March 28, 2013
Globally renowned keynote speaker, business futurist and best-selling author Jack Uldrich has been selected to deliver a keynote presentation on "big data" at Emerson Retail Solutions' "Technology in Action" conference in Savannah, Georgia on April 15, 2013. The title of his talk is "Big Data: The Revolution Has Only Just Begun."
In addition to covering some aspects of his popular new book, "Foresight 2020: A Futurist Explores the Trends Transforming Tomorrow," and explaining how future trends in information and mobile communications, sensors, RFID technology, "the Internet of Things," artificial intelligence, cognitive computing and cloud computing are fueling the growth "big data," Uldrich will draw on his work in the field of change management (he's the author of the 2011 best-seller "Higher Unlearning: 39 Post Requisite Lessons for Achieving a Successful Future") to explain how business leaders must also let go—and unlearn—many of their assumptions about their industry, business models and customers in order to grasp big data's full potential.
Throughout his session, Uldrich will use vivid analogies and memorable stories drawn from a wide spectrum of industries to ensure the underlying message of his talk "sticks" with his audience. (In this sense, Uldrich's style differs from Viktor Mayer-Schonberger and Kenneth Cukier—authors of "Big Data: A Revolution That Will Transform How We Live, Work and Think—who take a more academic approach to the topic of big data.) A sample of some Uldrich's ideas can be found in this chapter, Engines of Change: The Future of Simulated Intelligence, from his latest book "Foresight 2020: A Futurist Explores the Trends Transforming Tomorrow."
In the past year, Uldrich has addressed dozens of corporations and associations, including delivering customized keynote presentations to McGladrey, Optus, Verizon, Cisco, IBM, PepsiCo, United Healthcare, Case IH, Guardian Life Insurance, WiPro, Methodist Hospital and General Electric.
Parties interested in learning more about Jack Uldrich, his books, his daily blog or his speaking availability are encouraged to visit his website at: http://www.jumpthecurve.net. Media wishing to know more about the event or interviewing Jack Uldrich can contact him directly at 612-267-1212 or jack(at)schoolofunlearning(dot)com.
Uldrich is a renowned global futurist, best-selling author, and editor of the monthly newsletter, The Exponential Executive. He is currently represented by a number of professional speakers' bureaus, including Leading Authorities, Convention Connection and Executive Speakers Bureau.