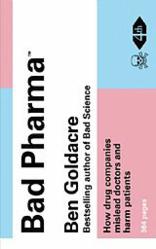 The risk is that the solutions it proposes will aggravate rather than resolve our problems
Toronto, Canada (PRWEB) March 28, 2013
Psychopharmacologist and world-renowned drug safety expert Dr. David Healy of RxISK.org reviews Dr. Ben Goldacre's best seller Bad Pharma.
Healy praises many aspects of the book: "It will be accessible to anyone interested in health and its politics. It strikes the right note of outrage. It tackles the problems pharmaceutical companies pose to medical care and Evidence Based Medicine" (EBM). However, he cautions that: "The risk is that the solutions it proposes will aggravate rather than resolve our problems."
Dr. Healy argues that fixating on randomized control trials (RCT), and mistaking this for drug safety testing, is a serious problem with the medical profession today. Ben Goldacre believes that the answer is more rigorous RCT with complete disclosure of all results. Healy points out that because RCT are inherently unsuitable for answering many important questions, the solution offered by Ben Goldacre will not cure what ails the practice of medicine. Dr. Healy insists that what is needed is for physicians to stop depending on EBM (which is in turn based on flawed RCT) and return to listening carefully to their patients, and exercising clinical judgment and discretion. As Dr. Healy says "The plural of clinical trials is not medicine."
For the complete review see David Healy's blog.
About Data Based Medicine Americas Ltd.
RxISK.org is owned and operated by Data Based Medicine Americas Ltd. (DBM). DBM's founders have international reputations in early drug-side-effect detection and risk mitigation, pharmacovigilance, and patient-centered care. Although drug side effects are known to be a leading cause of death and disability, less than 5% of serious drug side effects are reported. DBM's mission is to capture this missing data directly from patients through RxISK.org's free drug side effect reporting tool and use this data to help make medicines safer for all of us.
Media contact
David Carmichael
david.carmichael(at)RxISK(dot)org
+1 (647) 799-3792