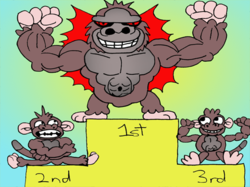 This software has made a huge impact on everyone who has used it - my goal is to get it into more people's hands, and making it free is the obvious step to accomplish that goal.
New York, NY (PRWEB) March 29, 2013
Recognized as the world's leading SAT tutor, Anthony-James Green announced today that his cutting edge SAT vocabulary software, Vivid Vocab, is now offered without charge.
Vivid Vocab, which was previously available for $19.95 for monthly access, uses colorful, graphic illustrations to create fun visual associations between words and their meanings in order to help students prepare for the SAT.
"I'm excited to be able to offer this for free," Green said about the software, which uses mnemonic devices, stories, audio, color-illustrations, and other devices to provide permanent user retention.
"Unlike other elements of the SAT, which require logical reasoning more than they require factual or material knowledge, the "sentence completion" portion of the SAT requires a good vocabulary - plain and simple. If students don't know the most common SAT words, they're at a huge disadvantage. This software has been proven to provide up to 95% retention, and it's a tool that I no longer wanted to keep private."
Students and parents interested in learning more about the software and signing up can do so using the following URL:
According to The College Board, the creators of the SAT, one-third of the SAT reading section is made of questions that are explicitly vocabulary dependent.
"Knowing the answers to these questions can potentially raise your SAT Critical Reading score by more than 200 points, and that's exactly why Vivid Vocab was created in the first place. Now that the software doesn't cost a thing, I'm hoping more families will use it to improve their scores and get into better colleges."
Green also noted that even on questions that don't specifically test vocabulary, students are often expected to understand the meanings of the words they encounter within passages, questions and answers on sections that involve reading.
"Because vocabulary knowledge is useful for all reading comprehension, an increased vocabulary is not only beneficial on the SAT, but on most English exams," Green stressed.
Vivid Vocab uses extremely advanced linguistic and educational methods to teach its students SAT vocabulary words; namely, it produces "association maps" in students' brains by "assaulting them" with intentionally bizarre, multi-sensory mnemonics and stories.
Vivid Vocab was designed as a replacement for traditional flashcards, which develop very few mental associations, rely almost purely on text, and are extremely easy to forget. VividVocab.com develops deep, permanent imagery around every SAT word's definition, which results in a full "mental story" which students can use to recall full word definitions months after their first viewing.
Students who use this software can boost their SAT score by hundreds of points, and both students and parents have reported a huge improvement in overall verbal ability after using the software
After a user account has been set up, users will receive unlimited, no-pay access to the hundreds of words in the Vivid Vocab library, and new words are being added constantly. The software has recently switched to in iPad and iPod-friendly format, meaning that students can access the program from anywhere, anytime via any internet-connected device.
Vivid Vocab is part of a larger effort on Green's part to develop free resources for students to improve their SAT scores. Green has just launched a free parental resource for SAT prep and college advice, Test Prep for Parents, which parents can access via the following URL:
http://www.TestPrepForParents.com
Green has also launched a student resource center for SAT help and college advice, which students can sign up for via the following URL:
http://www.TeachYourselfTheSAT.com
Both resource centers have been launched alongside Green's new 30-Day SAT Crash Course, hosted at http://www.30DaySAT.com, and his 60-Day SAT Prescription, hosted at http://www.60DaySAT.com. Both programs are self-study programs designed to improve student scores by hundreds of points without the use of tutors or SAT classroom courses.
Green has been called New York's Best SAT Tutor, and has devoted his entire career to helping families improve their SAT scores and college prospects. He lives in Los Angele and New York, where he tutors students full time when not creating new SAT programs and material.
###