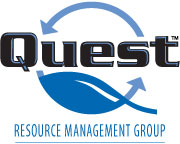 Frisco, Texas (PRWEB) March 28, 2013
Quest Resource Management Group is partnering with the Texas Legends and the City of Frisco, Texas Environmental Services to encourage the local community to minimize their trash and maximize their recycling.
On Saturday, April 6 at 5:00pm, Quest presents the Second Annual "Zero Waste Night" at the Dr Pepper Arena where the Texas Legends face off against the Springfield Armor. Prior to the televised basketball game, an event will be held outside the entrance to the arena from 5:00-7:00pm and will include music, local restaurant sponsored food tents providing free food tasting, merchant craft booths, bounce houses and more.
Texas Legends' mascot Dunker and Frisco Environmental Services mascot Rufus will entertain families throughout the game. Also returning will be Zero, Quest's robot mascot that encourages kids to reduce, reuse and recycle. The first 75 people to arrive at the pregame event will receive a free event t-shirt.
In addition to the activities and events prior to and during the game, Quest will also off-set waste and carbon emitted from the event. Trees will be planted the week of April 14th at the Warren Sports Complex in honor of Earth Day and as part of the green off-set effort.
Thank you to our partners and sponsors: Texas Legends, City of Frisco Environmental Services, The Cheney Group, Cushman & Wakefield, Regions, Lone Star Benefits, Snappy Salads, STC- Safety Training & Compliance, RPAI- Retail Properties of America, The Shops at Legacy, Cici's Pizza, The Pub in Frisco, Franconia Brewing, Bucca di Beppo, Mellow Mushroom, Eddibles & More, and Henry's Tavern.
In the chance of poor weather conditions, the pregame event will still be held and will be located in the first floor parking garage at the arena.
For more information, email LindseyR(at)QuestRMG(dot)com or visit http://www.zerowastenight.com or http://www.facebook.com/zerowastenight
About Quest
Quest Resource Management Group is a full service environmental consulting and management company, headquartered in Frisco, Texas. Quest helps Fortune 500 companies to maximize profits and mitigate risks, while minimizing their ecological footprints. Quest clients span across all key industry segments, including food services, hospitality, healthcare, manufacturing, construction, automotive aftermarket and fleet industries. Quest Resource Management Group provides North American clients with comprehensive sustainability programs, innovative recycling solutions and proven environmental protection.
Quest prides itself in delivering targeted solutions exclusively tailored to the needs of each respective client. Quest also offers Return on Investment (ROI) and Return on Sustainability (ROS) based road maps to help clients design actionable programs for managing RFPs, defining operational protocols, creating and implementing training programs, and defining best practices. Quest's Sustainability Intelligence Dashboard™ helps clients improve decision making by extracting greater insights through unsurpassed business intelligence.
###