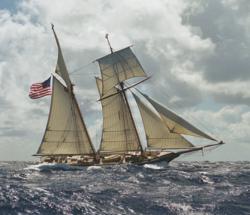 The Lynx curriculum combines traditional maritime instruction with modern educational requirements.
St. Petersburg, FL (PRWEB) March 27, 2013
Completely booked for sailing excursions and ship's tours when she was in Tampa Bay in January, the historic replica of the 1812 sailing ship Lynx will arrive back in Tampa Bay with cannons booming Wednesday, April 3.
Lynx will be in Tampa Bay for a 12-day stay for public tours and student educational excursions at the Harborage Marina. The entrance to the dock is located at the corner of 1st Street SE and 13th Avenue, St. Petersburg, 33701.
The ship's expected arrival time is noon Wednesday, April 3, at the entrance to the Harborage Marina.
The media and the public are invited to board the 122-foot genuine replica of the fast, armed privateer Lynx, which helped America win the War of 1812 against the British.
Ship tours are $6 for adults and free for children 4-12. Two-hour sailing excursions are $65 for adults and $35 for children 4-12.
For more information and ticketing, please visit http://www.privateerlynx.com/calendar.html. For ticket reservations or for more information, please call 866-446-5969.
Lynx, which has been called a sailing history museum, provides hands-on educational tours, historical programs, and sailing excursions for students through the Lynx Educational Foundation, a non-profit.
The crew of Lynx wears authentic maritime clothing from the early 1800s. The ship was built to near-exact specifications of the original fast Baltimore schooner design.
In addition to educational programming, charters and tours, Privateer Lynx has been hired in the past to train the cast and crew of the hit movie series Pirates of the Caribbean, and has won numerous awards for her maritime and historic instructional/educational programs.
Lynx will depart St. Petersburg April 14 and begin her journey around the tip of Florida and up the east coast to join in the summer tall ship festivals on the eastern seaboard and Great Lakes.
ABOUT LYNX EDUCATIONAL FOUNDATION
The Lynx Educational Foundation is a non-profit, non-partisan, educational organization, dedicated to hands-on educational programs that teach the history of America's struggle to preserve its independence. The maritime challenges during the War of 1812 are taught aboard the American Privateer Schooner Lynx utilizing a comprehensive, interactive program designed to enrich personal achievement through teamwork and the discipline of sail training.