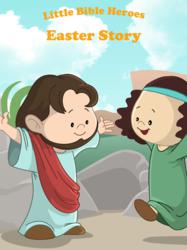 "With more than 50% of families owning a tablet, eReader or smart phone, the digital version of the Little Bible Heroes series is great for parents' peace of mind about what their children are reading."
Los Angeles, CA (PRWEB) March 28, 2013
"Little Bible Heroes™"—the series of short captivating Bible stories designed to teach young children many of the most important stories in the Bible are now available on all eReader platforms, bringing the stories of Easter, Jesus' Miracles, David, Samuel and others to life. Intellectual property studio and 3D production specialist, SD Entertainment, has partnered with Little Bible Heroes™ publisher, UK based GoldQuill Publishing, to produce and publish the digital version of the popular children's book series that presents enthralling Bible stories for young children. At the end of each story, the child listeners are asked questions about how to apply the principles of the story to their own lives.
"Premier Digital Publishing is pleased to bring the iconic "Little Bible Heroes" from print into the digital realm, to help capture and engage the imaginations of a new generation of young readers," said Thomas Ellsworth, CEO of Premier Digital Publishing. "In partnership with SD Entertainment and GoldQuill Publishing, we have distilled the most important parables and lessons from the Bible into the perfect medium for parents and children to share together on the eReader of their choice."
"SD Entertainment is thrilled to bring 'The Little Bible Heroes' book series into the eReader world," said Michele Martell, COO, SD Entertainment. "With more than 50% of families owning a tablet, eReader or smart phone, the digital version of the Little Bible Heroes series is great for parents' peace of mind about what their children are reading."
"Little Bible Heroes board books have always been a good way for young children to learn their first Bible stories," said Daniel Miller, founder, GoldQuill. "Now that so many families own eReader devices, we want to make sure the new generation of connected kids enjoy the series as much as their predecessors did."
Readers can download Little Bible Heroes™ on all e-reader platforms including Amazon, Apple, Barnes & Noble and read on devices including Kindle, Kindle Fire, IPad, IPhone and Nook. To celebrate the upcoming Easter holiday, the titles first available will be Little Bible Heroes "Easter Story", "Jesus' Miracles" and "Good Samaritan". More titles will soon be released including "Creation", "Noah", "Joseph "," Miriam "," Samuel "," David "," Little Maid "," Esther" and "Christmas". Each book is $2.99.
About SD Entertainment
Founded in 1999 by entertainment industry veterans Paul Sabella and Jonathan Dern, SD Entertainment specializes in managing a portfolio of brands, producing and distributing franchise properties that connect with audiences and consumers on every screen, from movies to eBooks. SD Entertainment has re-invented, produced and distributed amazing entertainment for beloved brands such as Bob the Builder, Angelina Ballerina, My Little Pony, Tonka, Care Bears, Transformers, Bratz, and Noddy, and created The Bigger Picture, the world's first digital theatrical distribution company, and its family matinee program, Kidtoon Films. SD is also the producer of four original series of enhanced eBooks for children— the "Classic Tales" series, "I Know My" series, "Army Ants" and "Even Monsters" series.
Web: http://www.sdentertainment.com/books
Like: http://www.facebook.com/sdebooks
Follow: http://www.twitter.com/SDEbooks
About Premier Digital Publishing
Premier Digital Publishing, Inc. is a leading independent digital publisher and innovator in eBooks, enhanced eBooks and interactive content. Led by a team of digital media pioneers, the company ranks among the top publishers of quality eBook entertainment to the industry's leading tablet and eReader manufacturers and eBook retailers. The company is based in Los Angeles with offices in Toronto and New York.
Web: http://www.premierdigitalpublishing.com
Follow: http://www.twitter.com/PDigitalPub
About GoldQuill
GoldQuill is a UK based publishing company founded by Daniel Miller and Michelle Wysocki, specializing in unique books that have inspirational, character building and educational values. http://www.goldquill.co.uk
# # #
Media Contacts:
Ida Yenney 818 839 1410 ida(at)genncomm(dot)com
GennComm for SD Entertainment
T: 818-839-1410 E: ida(at)genncomm(dot)com