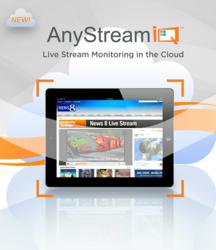 AnyStream IQ is the first cloud-based solution to record and monitor streamed media for web captioning compliance and proof of advertising.
Newark, CA (PRWEB) March 28, 2013
At NAB 2013, Digital Nirvana will introduce AnyStream IQ™ - the industry's first cloud-based solution for streamed media monitoring. It provides reliable recording, logging and monitoring of live and recorded streamed broadcasts for web captioning compliance and proof of advertising. Digital Nirvana will exhibit in Booth N3434 during the NAB convention, being held from April 8-11th at the Las Vegas Convention Center.
AnyStream IQ is designed specifically for the new streamed media monitoring requirements of broadcasters, content creators, aggregators and distributors.
Given today's move toward "TV Anywhere," broadcasters are expanding the video delivery ecosystem and are streaming video content to desktops and mobile devices. Within this streamed programming, they are inserting ads that are different from ads running during the traditional broadcast. TV stations must create a log of their streaming content in order to provide a "proof of airing" to their advertising clients. There will be a growing need for online ad monitoring since industry experts are expecting a triple digit increase in ad growth for online media through 2017.
Another situation increasing the need for live stream monitoring is the new FCC web captioning requirements. These new mandates require broadcasters to provide web captioning for hearing impaired viewers. Broadcasters must provide proof of compliance for these new mandates as well.
"AnyStream IQ is the first cloud-based solution to record and monitor streamed media for web captioning compliance and proof of advertising," said Hiren Hindocha, president and CEO of Digital Nirvana. "We're extremely eager to demonstrate this at NAB this year. We expect a very enthusiastic response from content creators who must comply with the new FCC mandates on streamed content. It addresses many challenges they now face, and greatly simplifies the entire process."
AnyStream IQ provides the following capabilities:
· Records and monitors live and recorded streams for proof of web caption compliance
· Provides "proof of airing" for advertisers
It is a cloud-based subscription service, with no hardware or software to install. Users just specify the URL of the stream, and AnyStream IQ records the streams, extracts the closed captions (if any), and provides a browser-based interface to search the recorded streams. With its Cut/Clip feature, users can make frame-accurate in and out points on video using the H.264 standard and share the clip for either compliance or proof of airing purposes. AnyStream IQ can easily complement a station's current, in-house compliance logging system.
AnyStream IQ records both FLV and HLS streaming formats for desktop computers, tablets and smart phones. It extracts closed captions accompanying the streams. It also extracts advertisements within the streams.
As a cloud-based solution, AnyStream IQ offers several budget-friendly benefits. It eliminates upfront installation and server maintenance costs, and it turns monitoring into an operating expense as opposed to a capital expense. With subscription-based pricing, the cost of monitoring is spread over the course of an entire year.
In addition to AnyStream IQ, Digital Nirvana offers the traditional broadcast monitoring solution through its flagship product, Monitor IQTM Used by broadcasters worldwide, Monitor IQ provides a range of unique features including centralized management, automatic ad detection, a director's audio track, as well as an advanced metadata harvester™. Monitor IQ combines the functionality of content recording (HD and SD in full resolution), content searching, retrieve and repurposing, Web publishing, signal monitoring, air-check logging, archiving, ad verification and tracking, and competitive analysis in a scalable networked appliance.
About Digital Nirvana
Since 1996, Digital Nirvana has been empowering customers with innovative knowledge management technologies. By combining media and digital technology expertise, Digital Nirvana makes it possible for organizations to streamline operations and gain competitive advantage with advanced product and service offerings. The company's portfolio includes the industry-leading Monitor IQ broadcast monitoring system, AnyStream IQ live stream monitoring solution, MediaPro content repurposing system, and repeat audio detection systems (RADS) for song tracking and ad tracking. A comprehensive service portfolio includes media monitoring and analysis, market intelligence and analytics, learning management services, and professional services. Digital Nirvana is headquartered in Newark, California with offices in Hyderabad and Coimbatore, India. For more information, visit http://www.digital-nirvana.com.
###
For more information, contact:
Robin Hoffman
Pipeline Communications
277 Valley Way
Montclair, NJ 07042
917-763-8069
robinhoffman(at)pipecomm(dot)com
http://www.pipecomm.com
Hiren Hindocha
Digital Nirvana
39899 Balentine Drive, Suite 200
Newark, CA 94560
510-226-9000
hiren(at)digital-nirvana(dot)com
http://www.digital-nirvana.com
Editor's Note: High-resolution product photography is available upon request.