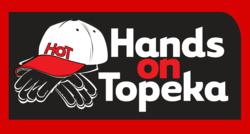 As United Methodists, we are committed to being the church beyond the walls to work alongside our neighbors as well as make Topeka a better place to live.
Topeka, KS (PRWEB) March 28, 2013
On Sunday, April 28, local United Methodist churches and volunteers will place their Hands on Topeka for the fourth annual community-wide effort to provide a cleaner and safer environment for Shawnee County families.
In addition to cleaning up city parks, Hands on Topeka is expanding its reach by including service opportunities at local schools. Volunteers will help with pulling weeds, light landscaping, litter removal and other spring cleaning tasks.
"It's inspiring to watch hundreds come together to make a difference in our community," said the Rev. Kay Scarbrough, event coordinator for Hands on Topeka. "As United Methodists, we are committed to being the church beyond the walls to work alongside our neighbors as we make Topeka a better place to live. We welcome hands of all types to join us!"
Community members who wish to volunteer are encouraged to register at http://www.HandsOnTopeka.org. Service projects will begin at 1:00 p.m. and conclude by 4:00 p.m. at the following locations:

Central Park – 1300 SW Clay
Gage Park – 4001 SW 6th Street
Hughes Park – 725 SW Orleans
Lake Shawnee – 3137 SE 29th Street
McEachron Elementary School – 4433 SW 29th Terrace
Randolph Elementary School – 1400 SW Randolph
Scott Magnet School – 401 SE Market
Shunga Trail – 4801 SW Shunga Drive
Whitson Elementary School – 1725 SW Arnold
From 4 p.m. until 6 p.m., everyone is invited to an ice cream social celebration at Reynolds Lodge (3315 SE Tinman Circle on the east side of Lake Shawnee). There will be free ice cream, live music and an opportunity to reflect on the day's accomplishments.
Sponsors for Hands on Topeka include United Methodist Communications, Keep America Beautiful, Roberts Dairy Foods, Shawnee County Parks and Recreation and Boudeman Family Motors.
Partnering United Methodist churches are Asbury-Mt. Olive UMC, Berryton UMC, Countryside UMC, Crestview UMC, First UMC Topeka, Grace UMC, Highland Park UMC, Kansas Avenue UMC, Pleasant Hill UMC, Rossville UMC, St. Peter's UMC, Shawnee Heights UMC, Silver Lake UMC and Susanna Wesley UMC.
The event urges participants to Rethink Church and utilizes outreach to make a difference in the world beyond church doors.
For more information, and to register to volunteer, visit http://www.HandsOnTopeka.org.
About Rethink Church
Rethink Church, the next evolution of The United Methodist Church's "Open hearts" welcoming and advertising campaign, highlights the many opportunities available within United Methodist churches to engage with the world—from literacy programs to feeding the poor. At http://www.rethinkchurch.org, visitors may interact, learn more about the church, and search for involvement opportunities.
Contact:
Rev. Kay Scarbrough
kscarbrough(at)kansaseast(dot)org
785-272-9111 (office)
913-530-2971 (cell)