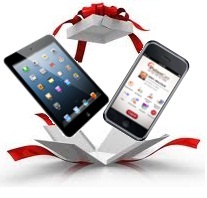 iPatientCare's product strategy, coupled with the aggressive offers of FREE EHR license and converting existing EHR data for FREE have helped iPatientCare in increasing its customer base tremendously. In fact, we have no sales people on the streets!
Orlando, FL (PRWEB) March 28, 2013
iPatientCare, Inc., a pioneer in mHealth and cloud-based ambulatory EHR and integrated Practice Management solutions announced the launch of the 2G Patient Portal and mHealth products, miEHR and miPHR ("mi" pronounced as "my").
iPatientCare has emerged as one of the visionaries of the US healthcare IT products and solutions market place. Mobile MedData on a Palm Pilot in 1997 was its first breakthrough clinical product that won the hearts of thousands of physicians, clinicians, and medical students. iPatientCare arrived with flying colors when General Alexander Haig identified Mobile MedData for Combat Casualty Care – US Army's First Responder as one of the most innovative products in World Business Review. iPatientCare has come full circle to releasing innovative solutions for mHealth with its launch of iOS product suite that is at the center stage of its product strategy for Meaningful Stage 2 requirements, particularly, Care Coordination and Patient Engagement.
"The industry statistics indicate increased adaption of EHR. However, there is an increasing discussion of the fact that many physicians are not happy with EHR they adapted. "Usability" or "Ease-of-Use" is the key when it comes to using EHR at the point-of-care, and the hard fact of reality is that most EHR seem to elude this essential requirement of busy physicians. Few other facts that matter the most to physicians, namely, availability of a cloud-based EHR, integrated Billing system, integrated Patient Portal, mobile point-of-care solutions, and a possibility of acquiring free EHR by signing up for Revenue Cycle Management services." said Udayan Mandavia, CEO, iPatientCare.
He added further, "iPatientCare's product strategy, coupled with the aggressive offers of free EHR license and converting existing EHR data for free have helped iPatientCare in increasing its customer base tremendously. In fact, we have no sales people on the streets! Our customers are our best ambassadors and help increase our sales through referrals and recommendations."
iPatientCare's end-to-end Revenue Cycle Management or Billing Services, 2nd generation of Patient Portal and mHealth Apps, and innovative Referral Program were presented at EHR Adoption and Meaningful Use Boot Camp on March 14, 2013 at the Orlando Science Center, organized by Central Florida HIT Initiative, UCF College of Medicine, Orlando, Florida.
About iPatientCare
iPatientCare, Inc. is a privately held medical informatics company based at Woodbridge, New Jersey. The company is known for its pioneering contribution to mHealth and Cloud based unified product suite that include Electronic Health/Medical Record and integrated Practice Management/Billing System, Patient Portal/PHR, Health Information Exchange (HIE), and mobile point-of-care solutions that serve the ambulatory, acute/sub acute, emergency and home health market segments. iPatientCare EHR was among the first to be certified by CCHIT in July 2006 and is currently CCHIT 2011 fully certified and ONC-ATCB 2011/2012 Certified Complete EHR for Meaningful Use. The company has won numerous awards for its EHR technology and is recognized as an innovator in the field, being a pioneer to offer an EHR technology on a handheld device, an innovative First Responder technology to the US Army for its Theatre Medical Information System, the first to offer a Cloud based EHR product. iPatientCare is recognized as one of the best EHR and Integrated PM System for small and medium sized physicians' offices; has been awarded most number of industry Awards; and has been recognized as a preferred/MU partner by numerous Regional Extension Centers (REC), hospitals/health systems, and academies. Visit http://www.iPatientCare.com for more information.