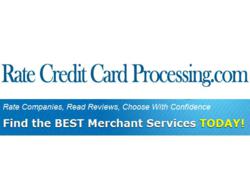 A comparison of charges is not enough - choosing a service with confidence requires more than a pricing breakdown...
Orlando, FL (PRWEB) March 28, 2013
Consumer reviews and feedback have become a critical component of research for business owners looking for the best, low cost options to accept credit card payments. Leading consumer driven review site, RateCreditCardProcessing.com, has added the ability for merchants to engage and respond to customer complaints. Business owners can see quickly, and easily, which companies show an interest in addressing complaints, and which don't.
According to the site, providers are incredibly competitive, while the credit card processing industry hasn't earned a reputation for customer service, and many customers feel they have mistreated.
According to Greg Wong, founder of RateCreditCardProcessing.com, customers are concerned about more than just rates, fees, and ease of integration - people want a service they can depend on to act in partnership to grow their business.
Mr. Wong added, "Comparing fees of the processors is not enough, our users want to know which company doesn't intend to ignore their concerns, to leave them alone, when they face a problem."
According to the site, a number of solutions exist for payment acceptance, some businesses may need a merchant account and POS integration, while for others services like PayPal, and AlertPay are adequate for their needs.
Allowing the payment processors to enter the conversation can only help consumers, and may serve to help providers address customer concerns more directly.
"Our goal is make it amazingly fast & simple for owners to determine the best payment acceptance service, and now to provide a means for top card processors to get even better," said Mr. Wong.
About RateCreditCardProcessing.com:
If getting the best support, the best prices, and the most secure system for accepting payments is important for 2013, get the info to choose with confidence. Learn more about how we protect the integrity of the review system here: http://www.ratecreditcardprocessing.com/our-philosophy/
Click here to find out what real customers have to say about the 'supposedly' top companies: http://www.ratecreditcardprocessing.com