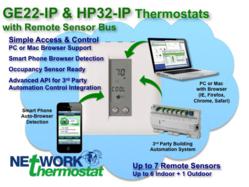 These secure commercial-grade thermostats are the ideal solution for simplified, fool-proof HVAC energy managemet.
Grapevine, Texas (PRWEB) March 27, 2013 (PRWEB) March 28, 2013
NetworkThermostat, a leading communications-based thermostat manufacturer since 1995, announces the availability of the GE22-IP and HP32-IP Ethernet thermostats. An integrated web server automatically detects the type of device (PC, Mac, tablet or mobile phone), makes the connection and delivers the right user experience with either the full webpages (PC, Mac or iPad), or mobile pages for small browser platforms such as an iPhone or Android phone. All thermostats are commercial grade and interface with up to six (6) remote indoor sensors and one (1) outdoor sensor. The GE22 supports automatic changeover 2-Heat / 2-Cool for Gas and Electric units and the HP32 accommodates 3-Heat / 2-Cool for Heat Pump units.
While traditional programmable thermostats place a burden on the user to program from the front panel of the thermostat, these Internet thermostats allow point and click control from any browser on any device from anywhere there's an Ethernet or Internet connection. These set-back thermostats feature 2 occupied (Day-Cool & Day-Heat) and 2 unoccupied (Night-Cool & Night-Heat) set-points. Optional ceiling or wall mount occupancy sensors are available for automated energy savings without programming.
Because these are web-based thermostats with full 10/100Mbps Ethernet connectivity, PCI compliance for the commercial world is extremely simplified. Connect and control from anywhere inside the home or business or connect from the Internet if you're not at the thermostat's location. In addition, controlling multiple GE22 and/or HP32 thermostats is as easy as controlling one. Users have the option of using the free Internet-based Net/X™ Remote Device login tool and/or the free Net/X™ Device Explorer tool for on-site LANs (both tools will list all of the user's thermostats).
All thermostats have universal equipment control for conventional gas/electric, heat pump (including dual fuel), electric, and hydronic heat systems. These new thermostats incorporate commercial advantages such as lockout with 1 or 3 hour override and +/-3oF temperature adjustment, min/max set points, fan recirculation, keypad lockout, and many more powerful features. Use the two (2) digital inputs with LED warning lights to monitor condensate switches, dirty air filters or other fault conditions.
Both thermostat platforms support up to 4 email and text message destinations that can be used for reminders and alerts to a myriad of conditions for both customer and service personnel. With the embedded secure email client, configuring alerts is as simple as entering the email addresses and phone numbers, then point-and-click the alert conditions to the desired destinations. Critical alerts can be repeated, if desired, until the alert condition has been corrected and the alert reset. There are a total of eight (8) alert conditions. The alerts include filter change reminders and a powerful Inefficient Equipment Run alert that can notify the contractor to improper equipment operation so as to provide proactive service for his customer.
NetworkThermostat teamed up with the most powerful weather service, Weatherbug®. Weatherbug® is integrated in the thermostat, allowing users to know the outside temperature (without the need for a sensor), full current weather conditions and seven day forecast, all right from the browser. The Weatherbug service obsoletes outdoor sensors for the heat pump compressor and auxiliary heat lockouts.
In addition, both thermostats employ NetworkThermostat's open API, allowing software developers and hardware integrators the ability to quickly and seamlessly integrate the thermostat into other systems. Multiple iPhone/iPad and Android based applications from third parties are also released.
Availability
These products are available through an ever-growing network of online retailers, HVAC distributors and contractors. Detailed information on this product, and NetworkThermostat's industry leading network solutions can be found on the web at: http://www.networkthermostat.com, http://www.facebook.com/networkthermostat, email: sales(at)networkthermostat(dot)com, telephone: 866-563-0711