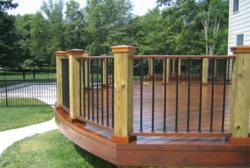 Finksburg, MD (PRWEB) March 28, 2013
As the weather slowly gets warmer allowing for outdoor activities, Frontier Deck Builders, Inc. launches a new website to accommodate its growing list of services and portfolio of projects.
The new website designed by PDR Web Solutions features a simplistic layout, easy-to-follow navigation and a comprehensive portfolio of Maryland decks, patios, gazebos and other projects completed by Frontier Deck Builders, Inc.
"We've decided to keep it simple with the color scheme, so that it doesn't distract from our work and the beautiful photo portfolio we've created over the years of building outdoor structures," shared Andy Merz, the owner of Frontier Deck Builders, Inc.
He added that the old website failed to portray the wide range of projects the company works on. "We build quality decks and railings, but we also build patios, pergolas, arbors, gazebos, sunrooms and other structures for both indoor and outdoor use," followed up Merz.
The website redesign comes in time for the spring season when many homeowners tend to revamp their outdoor spaces to create summer cooking, getaway or entertainment areas. "Even though the winter is still surprising us with unexpected snowstorms, now is the time to start planning your Maryland deck or patio," recommended Merz.
According to the 2011 U.S. Census Bureau Housing Survey, more than 3,000 homeowners have added patios, decks, porches and terraces to their homes during 2009 and 2010, spending over 15 million on these outdoor renovation projects.
Merz stressed the importance of having an outdoor structure built by professionals to ensure it meets the safety code. According to the North American Deck and Railing Association, correct installation is not the only thing homeowners need to worry about when it comes to decks – regular maintenance is just as important.
"At Frontier Deck Builders, we build new outdoor structures, as well as retrofit existing ones to make them safer and more versatile," shared Merz, inviting Maryland residents to visit http://www.frontierdecks.com for a complete list of services and relevant consumer information.
About Frontier Deck Builders, Inc.
Frontier Deck Builders, Inc. is a full-service design and building contractor with more than 20 years of experience. Specializing in patios, gazebos, screened porches and decks in Maryland, Frontier Deck Builders, Inc. also builds a variety of other outdoor structures and home editions.