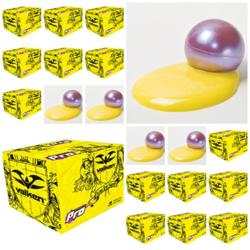 we have the best paintball in bulk available for our customers at discounted prices
(PRWEB) March 28, 2013
Action Center Paintball is offering bulk paintballs at discounted prices, as a paintball player if you have ever asked were can i buy cheap paintballs Action Center Paintball has the solution for you.
A paintball is a round, thin-skinned gelatin capsule with colored liquid inside it. usually consisting of polyethylene glycol and food coloring and paraphin wax Paintballs are similar to large round vitamin capsules or bath oil beads. The fill inside paintballs is non-toxic, non-caustic, water-soluble and biodegradable. It rinses out of clothing and off skin with mild soap and water.
Paintballs come in a rainbow of bright colors: blue, pink, white, orange, yellow and more. When a paintball tags a player, the thin gelatin skin splits open, and the liquid inside leaves a bright "paint" mark. A player who is marked is eliminated from the game.
Action center had valken paintballs for sale and at the best prices. these paintball can be drop shipped right to your door fresh from the paintball factory