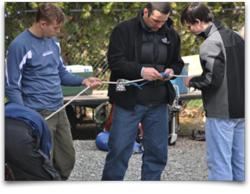 Seattle, WA (PRWEB) March 28, 2013
River Recreation, Seattle's premier whitewater rafting service, is proud to offer an exciting opportunity for adventurous and driven outdoorsmen and women this spring through summer. Beginning April 13th, River Recreation will be offering training courses intended to prepare applicants to become whitewater river rafting instructors and guides. With several weeks of coursework in all aspects of whitewater rafting, including emergency training, the program opens up lucrative opportunities of employment with River Recreation for the coming summer whitewater rafting season.
As the winter gives way to spring, now is when River Recreation prepares for the busy season of the summer by training a new class of instructors and guides. Program participants receive extensive hands-on training from some of the most talented rafters in the country, with a combined 100+ years experience at their disposal. River Recreation's whitewater river rafting program, honored for excellence in 2007 by National Geographic Magazine, encompasses three of Washington's most dynamic and beautiful rivers; the Wenatchee, the Methow, and the Green River. Aside from hydrology (reading water flow and understanding terminology), applicants are given rigorous instruction in:

Boat control, paddling, and river communication
Rigging, knots and equipment handling
CPR, 1st aid certification, and whitewater river rescue
As the bar setting whitewater river rafting training program in the American Northwest, there is an added opportunity from the course that is not available elsewhere. The intention of the coursework is to train the next class of River Recreation whitewater rafting guides, thus graduation is accompanied by a job offer for the summer rafting season as a River Recreation guide. With lucrative full-time and part-time positions available from June thru September, the payoff for successful completion of the training program is assured to be considerable.
The training course usually lasts until mid-May, and may require camping at remote riversides. Coursework will include over 100 hours of on-river training exercises, double the requirements of the state of Washington's commercial guide certifications. The $465.00 enrollment fee will cover all training, a wetsuit, booties, and PFD (personal floatation device) for the duration of the program, as well as class syllabus and CPR/1st aid certification. Trainees are expected to bring their own warm clothing, camping equipment, lunch and water for the duration of the exercises.
For hands on experience and proficiency in guiding rafts along class 3 and 4 whitewater river rafting runs, the River Recreation instructional program aims to set the bar. If you're an enterprising outdoor type looking for work this summer, River Recreation is looking for you. For more information on whitewater rafting and training courses, please visit River Recreation's guide training page, or contact:
River Recreation
Phone: 1.800.464.5899
Website: http://riverrecreation.com/