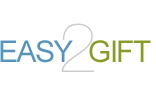 Our business is based on making people happy, we cannot afford unhappy customers because their gift didn't arrive on time or unable to purchase a gift because of high prices
(PRWEB) March 28, 2013
During these hectic times people need to make sure they keep their thoughts and feelings positive, this is why Easy2Gift.com is promoting "Sharing for no reason", a new thinking model which encourages people to gift gifts to others for no reason at all, celebrating those that makes them happy.
Everyone enjoys receiving a surprise gift, and although is the thought that counts, Easy 2 Gift knows that a surprise gift 'just because' might need to arrive fast and in some cases have accessible prices. Coming home from a long day at work to a big brightly colored, beautifully wrapped gift box? You can make it happen and put a smile on that special someone's face with Easy 2 Gift.
Susan Hardy, Marketing Director of Easy2Gift.com carefully explained how this campaign works and shared a little bit more about it. "Easy2Gift's business is based on making people happy, we cannot afford unhappy customers because their gift didn't arrive on time or were unable to purchase a gift because of high prices, so we want to make things easier for everyone and this campaign was created to show our customers they can trust Easy2Gift and always get what they expect, even if it's not a Holiday." The campaign will last a month starting today and the team at Easy2Gift is ready to help all customers make a day brighter for that special person.
Want to surprise a co-worker in gratitude for his or her help on a project? A friend is graduating? Someone on the family just moved out? Easy2Gift.com has something for everyone, for every occasion, or no occasion at all and purchases can be done withing minutes, receiving great prices and one of the fastest shipping services found online.
Make sure to log into http://www.easy2gift.com and browse around the wide variety of choices they have, visitors will be amazed by all the great options, low prices and impressive customer services.