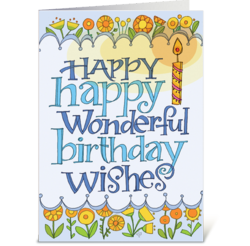 Card Gnome's scheduling feature is the perfect way to let people plan ahead and make sure cards are delivered at the perfect moment
Boulder, Colorado (PRWEB) March 27, 2013
Card Gnome, an online greeting card company, has introduced a way to send birthday cards from the internet all year round by using an advanced scheduling feature.
Those who wish to send birthday cards to loved ones in the mail can schedule their cards online in advance, allowing them to plan ahead for a loved one's special day.
Card Gnome offers more than 1000 crowdsourced cards, including birthday cards that range from the lighthearted to heartfelt, according to Card Gnome co-founder and CEO Joel Wishkovsky. "Our customers choose the date a birthday card arrives in the mail, making it easy to get celebratory cards into a loved one's mailbox in time for their big day," Wishkovsky said.
Card Gnome's birthday card options are different from sending an e-card. Users can scroll through hundreds of birthday cards created by independent artists to find a suitable birthday message, then choose when the card will be sent out--up to one year in advance. The recipient will get a colorful paper card in the mail on the day the sender selects.
"Like me, our customers have a lot of birthdays to remember. Card Gnome's scheduling feature is the perfect way to let people plan ahead and make sure cards are delivered at the perfect moment," Wishkovsky said.
The Card Gnome team regularly unveils new birthday cards on their site, as well as cards for other special occasions. Find out more at http://www.cardgnome.com.
About Card Gnome
Card Gnome is an online greeting card company offering personalized paper cards. Based in Boulder, Colo., Card Gnome offers the ease of online ordering while remaining dedicated to preserving the time-honored tradition of receiving real cards in the mail. The company works with an exclusive community of independent artists from around the world. Card Gnome's technology focuses on helping people find the perfect card. All cards are printed on 100% recycled card stock and packaged in biodegradable materials. For more information, please visit http://www.cardgnome.com and follow on Facebook.com/CardGnome.