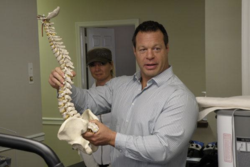 'As a chiropractor and physical therapist, the physiology to exercise in ways to minimize damage is vital,' says Dr Ted Glazer.
(PRWEB) March 29, 2013
418 E Lancaster Avenue, Wayne, PA 19087 Chiropractor Ted Glazer welcomed nearly a dozen Main line residents to the Chiropractic Spine Center in Wayne on Saturday morning. Glazer is the chiropractor, but there were no treatments and no billing on Saturday morning. Glazer was doing a "Pop-Up" presentation, part of Main Line School Night's 75th anniversary celebration.
Instead, those who had "popped in" just to find out a bit about what Glazer or some other chiropractor might be able to do about their aching backs, heard Glazer, who is also a physical therapist, talk about and demonstrate how to exercise in ways that can minimize damage to the spine or to joints before an M.D or chiropractor is needed.
Glazer's talk, like all the Pop-Up classes, was to last about 15 minutes, but he went on for nearly an hour. Nobody showed any interest in leaving before he had finished.
"There are some really interesting classes being held," Wayne resident and MLSN volunteer Cindy Spurdle said. "We have been distributing the materials to the different participants the last few days and it is so exciting to see their enthusiasm."
The Pop-up classes, around 75 in all, will continue in and around Wayne. In fact, Glazer will repeat his talk on Saturdays, at 10:00 a.m. Also on Tuesdays at 2 p.m., there will also be a session on Balance and Falls: Preventions and How to Assess, presented at Club La Maison Health and Fitness Complex on Sugartown Road. Identity-Theft Avoidance will be the title of a Bryn Mawr Trust Pop-Up seminar in Wayne on Thursday at 7:45, Hotaling Investment Management will present Which IRA is Best for You? Also, on Thursday, and there will be Olive Oil and Cheese Pairing at Tredici Italian Market on E. Lancaster Ave. Tuesday at 6:30 p.m. and many, many others as well.
Class descriptions are on the MLSN web site – http://www.mainlineschoolnight.org. Many of the Pop-Ups are scheduled for more than one day or time.
On Saturday morning, Glazer got to involve his audience in his talk by having his demonstrations done by those who had come to learn something, even though his assistant and fiancee, Heather Maxwell, was on hand for some exercises showcasing flexibility. So, everybody got a bit of a workout in addition to some good advice on maintaining quality of life.
For more info, you can reach Dr Glazer at 418 E Lancaster Ave , Wayne, PA 19087 • 610-254-8200 or http://www.spinecenters.biz/.