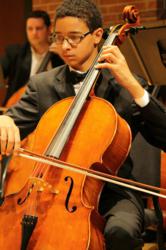 Baltimore, MD (PRWEB) March 28, 2013
The Baltimore Symphony Youth Orchestras (BSYO) will hold the first-ever BSYO Gala and Auction on Thursday, May 2, 2013 at 5:30 pm at the Joseph Meyerhoff Symphony Hall. The BSYO Gala will showcase live musical entertainment by BSYO's own talented student musicians and feature Baltimore-inspired cuisine from La Scala Ristorante Italiano, Panache Fine Catering, Iced Gems Dessert Creations, and more. Both a silent and live auction will give attendees opportunities to bid on one-of-a-kind auction items such as: a week-long retreat at South Carolina's Folly Beach; weekend getaway packages to Baltimore-area hotels (including The Wayside Inn, Harborplace Renaissance Hotel, Guest Suite at McHenry Row); Ravens memorabilia; premiere tickets to see the Baltimore Orioles play at Camden Yards; private lessons with BSO musicians, and surprise auction "experiences" with BSO Music Director Marin Alsop and/or BSO musicians.
Tickets are $100 and cover parking, food and drink for the evening. One hundred percent of ticket sales and auction proceeds directly support the BSYO, providing much-needed funding for the BSYO's year-round operations, bridging the student tuition-expense gap and underwriting important financial aid packages.
About the Baltimore Symphony Youth Orchestras (BSYO)
Launched in September 2012, the Baltimore Symphony Youth Orchestras (BSYO) carries forward the Greater Baltimore Youth Orchestras' (GBYO) legacy of exemplary musical training for a next generation of talented student musicians. Its mission is to inspire and nurture the talents of our region's youth through a continuum of extraordinary opportunities in music; and, to empower each student by developing life skills such as discipline, perseverance, and responsibility to a common endeavor.
Since the 1977 founding of the GBYO by Baltimore Symphony Orchestra (BSO) clarinetist Chris Wolfe, the GBYO and BSO have shared a common mission to nurture our region's most talented young instrumentalists. This logical merging of the two organizations provides youth access to more sizable resources and enhanced opportunities to engage with BSO musicians, conductors, and guest artists. The BSYO has a truly region-wide reach. Its 200 students, ages 6-18, represent 65 different Maryland K-12 schools across three levels of BSYO ensemble (String Orchestra, Concert Orchestra & Youth Orchestra).
During the current 2012-2013 season, BSYO students have spent countless hours rehearsing, performed onstage at the Meyerhoff, have been mentored by our world-class BSO musicians, and, gained increased exposure to BSO concerts and guest artists, including a new "BSYO Fridays at the Meyerhoff" program that invites students and their parents, at just $5 per student, to concerts and exclusive artist meet-and-greets.
COMPLETE PROGRAM DETAILS
The BSYO Gala and Auction
Thursday, May 2, 2013 — Joseph Meyerhoff Symphony Hall
Doors open at 5:30 p.m., live auction at 7:30 p.m.
For more information, visit BSOmusic.org/BSYO.
Tickets are $100 and are available through the BSYO Development Office, 410.783.8022 or BSYOmembership(at)BSOmusic(dot)org.
###